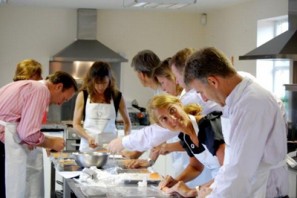 Basic Ingredients: A school near Milton Keynes where all ages can build their confidence in the kitchen under the attentive watch of a quartet of highly experienced chefs. Courses offer a gratifyingly hands-on experience –  "We do not believe in having our students standing around watching…", says Rachel Lansing, the school's founder. Each student gets one of six self-contained kitchen stations and ingredients to prepare dishes from scratch, allowing them to practise every step of the cooking process. Attention to detail is what it's all about here with seven-hour day courses, priced at a modest £140, focusing on single disciplines such as sauces, desserts, butchery and game but also including introductions to Thai, Spanish and Italian cooking. For more of an overview, try the one-week Cooking Basics course which covers a lot from  knife skills to pastries and desserts.
They say: We offer accessible cookery courses that feed your mind. Our head chefs are constantly developing new techniques for modern food preparation and presentation that they pass on to students.
We say: A very modern and sophisticated cookery school that doesn't require a lot of 'dough'. There is an interesting variety of courses on offer including the curious sounding Fat Burning Cookery Course as well as a sister operation, Mountain Chefs, which trains ski chalet chefs.
Contact:
The Inspired Gourmet Cookery School, The Old Granary, Brooklands Farm, Newport Road, Broughton, Buckinghamshire MK16 0HU.
01908 692918;
www.inspiredgourmet.co.uk