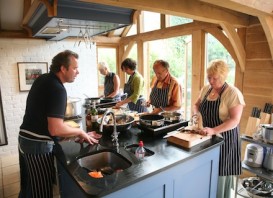 NB: Please note that we understand that this cookery school has ceased trading. Please click here for more information and contact the school directly with any questions.
Basic ingredients: An "informal and vibrant" cookery school in Chiselhurst, Kent (20 minutes outside London)  run from the timbered kitchen of head chef Keith Burke. Keith often decides on the exact ingredients of the course on the day, picking up fresh fish from a fishmongers in Greenwich, for example. Day courses, from 10am to 4pm, cost about £145 plus ingredients, including lunch and wine. Other courses include Great Grilling and Roasting, Simple Italian, and Brilliant BBQs which is held on the garden patio. As there are only ever a maximum of 5 students in each lesson, the courses can adapt to any level of chef.
They say: We teach students how to balance flavour and taste, always sampling the food to get the seasoning just right. Fresh seasonal produce is the main star.
We say: Keith's infectious passion for good food served with style and his ability to allow students to learn from their mistakes but still be on hand to guide is this homely school's greatest asset.