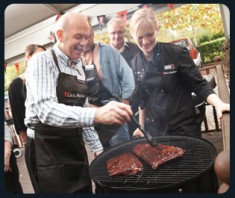 Basic ingredients: The Grill Academy near Oxford is Weber's purpose-built barbecue cookery school with a dedicated team of experts who demonstrate that there is much more to barbecuing than burnt burgers and blackened sausages. With Weber barbecues you cook with the lid on, which allows you to roast whole chickens and cook chocolate brownies, or use the grilling method for chicken skewers and even pizzas.  The popular Thrill of the Grill course comes in two parts; both run from 10am to 4pm, cost £130 each, and include drinks throughout the day, plenty of food and a goody bag with recipe booklet. All food where possible comes from local suppliers and is responsibly sourced. As well as corporate teambuilding days, other courses explore Smoking Methods and Festive Barbecuing – freeing up precious space in the oven at Christmas.
They say: We are not fazed by the British weather and are the only school to run barbecue courses all year round in our covered outdoor area. We offer a variety of fun and relaxed courses with varying skill levels and themed courses throughout the year, so there really is something to suit everyone. You will use Weber's barbecues to create foods you never dreamt possible on the barbecue.
We say: Grill Academy courses are well structured and fun and doing their bit to help Brits catch up with their American and Australian friends when it comes to "grill culture".
Contact:
The Weber Grill Academy, Weber House, Baldon Lane, Marsh Baldon, Oxford, OX44 9LT
01865 342220;
www.grillacademy.co.uk/