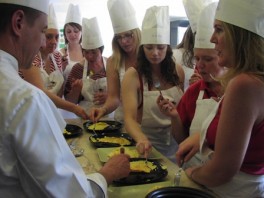 As far as we are aware Stamford Cookery School is now closed.
Basic ingredients: Opened in March 2011 in the centre of the market town of  Stamford where Thierry Daugeron and Denise Taylor oversee a range of classes for small groups in a high-spec purpose-built kitchen. As well as Back to Basics and useful Cooking with Eggs courses, there are specialist bread and Just Lincolnshire food courses. Daugeron is particularly strong on French courses taking in pate and terrines, brioche, breakfast pastries and canapes. Half day courses cost £65 and it's £125 for a full day.
They say: We use only the freshest ingredients sourced locally from free-range and organic farms with like minded producers. Some of our partners, include Jollydale Cyder, Riverford, The Pickled Village, Amphora Wines, Quenby Hall and Chater Valley. 
We say: On request, the owners will find students B&B accommodation within walking distance of the school – ideal for those doing the Gourmet Discovery Weekend .