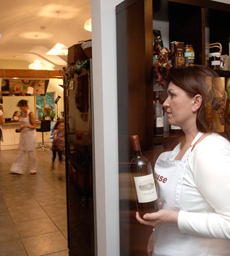 Basic Ingredients: Owner Billie O'Shea trained at the excellent Ballymaloe cookery school before establishing Fairyhouse Food and Wine, a few miles north of Dublin in Co Meath. With its views of the fruit tree gardens and surrounding countryside, this is one school that promotes stress-free cooking. It has all the infrastructure of a good cookery school: a demonstration theatre, six purpose-built stainless steel work stations and a bistro-style dining space. O'Shea's aim is to teach the all important kitchen techniques that will benefit both those looking to get off the culinary starting blocks and serious cooks looking to hone their skills. Cookery demo courses cost between €25 and €40 (including Shrew Food and Cooking for Babies and Toddlers) with one-day workshops priced from €95 per person covering a variety of themes from Taste of Thailand to Vegetarian Christmas.
They say: We feel sure that at our cookery school you'll learn to cook anything and love to cook everything!
We say: This is a warm and welcoming school that offers courses for kids and teens and a monthly Men in the Kitchen class, which includes titles such as Licensed to Grill. Every dish comes with a wine-matching tip and the website is worth exploring as there are plenty of discounts available for those making multiple bookings.