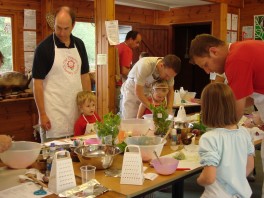 Basic ingredients: On an ethical crusade to spread the word about healthy food to families and children, this not-for-profit social enterprise could easily be the brainchild of Jamie Oliver but was actually established by former primary school teacher, Lucy May, and her colleague, Frances Williams. They deliver the school's ethos through practical cookery workshops, after-school activities and training courses for teaching staff, early years' professionals and community cooks. Guidance in cookery and nutrition is offered at every stage of family life from their Cooking For Baby workshops, which include recipes for home-made purees alongside facts about a baby's changing nutritional needs, to Cooking with Dad, an expanding programme of practical workshops that has just received further BIG Lottery funding. There is even the opportunity for youngsters and parents to gain a level 2 qualification in nutrition on some of the school's longer courses.
They say: Since 2004, we have taught over 6,000 children and their parents in schools, libraries and children's centres across the South-East. More than 80 per cent of our ingredients are organic, fairtrade, and, wherever possible, seasonal. 
We say:  The school also offers holiday workshops, birthday parties and cookery weekends, the profits from which help to finance community projects. If you want to get involved, they also provide the opportunity to work, volunteer or train with them, including an accredited nutrition training course for childminders, nannies and au pairs.