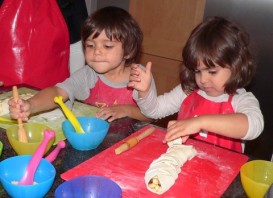 Basic ingredients: The chief ingredient at The Kids' Kitchen is fun. The team knows that its playful approach to cooking is the best way to engage the imagination of budding chefs. This might mean colouring handmade pasta with beetroot or creating carrot and olive penguins and chocolate graveyard pots, but while they're having fun, the little ones will be learning. Teamwork, kitchen skills and the appreciation of a range of fresh produce (all meat-free) are all emphasised in classes that run during school holidays, on Sunday mornings and during the week for pre-schoolers. Holiday hands-on workshops and Sunday classes accommodate up to 8 children, from age 5 upwards, and cost £30. Hour-long pre-school classes cost £10 and are for 2 to 5 year olds. Everything is provided, including ingredients, aprons and a take-home recipe booklet. Bespoke birthday parties can be booked  (prices start at £250), including a surprise treat for birthday boy/girl and the tidy-up afterwards. Young Adult classes are £40, last 2 hours and can contribute a new skill towards the Duke of Edinburgh award. For the same price, adult workshops include a glass of wine.
They say: Our aim is to help kids learn to cook and, by working with different recipes and ingredients, teach them about healthy eating and help broaden their palate. Above all, we want them to have fun.
We say: A plethora of positive testimonials from delighted parents suggest the Kids' Kitchen know how to nourish their pint-sized participants' bodies and minds. They have also attracted attention from local press and Net Mums, who awarded them winner of Barnet's Best Pre-school class.