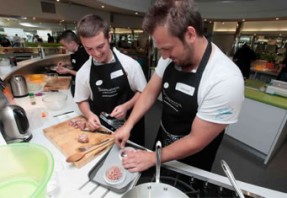 Please be aware that this cookery school is due to close on July 31st 2015
Basic ingredients: Set in the Pennines, the school has a smartly designed, colourful kitchen with individual work stations and TV screens as well as a cafe-style dining area. There are a handful of day courses each month usually on Fridays and Saturdays ranging from Effortless Entertaining to building confidence with knife skills. Courses cost £140 per person.
They say: Some of Britain's leading celebrity chefs agree that we have some of the best cooking facilities in Europe
We say: The Made in Yorkshire course focuses on the county's fabulous fare. All profits from courses are gifted to the Focus on Food Campaign which, each year takes a cookery bus on the road to teach more than 40,000 young people to cook and 2,500 teachers to teach cooking across the UK.