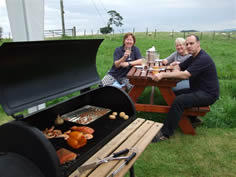 Basic Ingredients: When Smoky Jo's tutors Jo Hampson and Georgina Perkins sold their previous business, the renowned Old Smokehouse, established customers included Fortnum & Mason, Harvey Nichols and even Prince Charles, so anyone attending a practical, hands-on workshop at this Cumbrian cookery school can look forward to expert guidance on 'home food smoking'. During both one and two-day courses, students will learn to hot and cold smoke, using six different smokers and twelve different types of food (including meat, poultry, game and fruit). The two days will also take in sausage-making and a fishing trip and is approximately twice the price of the £109 day course. At the end of the day all smoked wares are washed down with a glass of bubbly and extra food taken home.
They say: You don't need to own an expensive home smoker to enjoy smoking food at home – anything from a barrel to a biscuit tin will do.
We say: Smoky Jo's are an accommodating bunch. Not only will they make provisions for vegetarians who can learn the art of smoking nuts, vegetables, cheese and eggs, among other things, but they also offer B&B accommodation to all students looking to bask in the tranquility of the Cumbrian countryside.
Contact:
Smoky Jo's food smoking courses, Castle Court, Shap, Penrith, CA10 3LG
01931 716 638;
www.smokyjos.co.uk