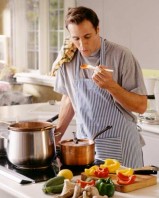 Six men-only cookery courses that you can buy vouchers for to encourage one of the men in your life to spend more time behind a stove
It's a carniverous feast on the two-day Gentlemen Please course, which covers all the fundamental cooking techniques, at The Culinary Cottage in Abergavenny, Wales (£300).
Confidence building and learning how to add inspirational touches to standard fare are on the menu at a full-day Men in the Kitchen course at The Tideswell School of Food, in Derbyshire (£135).
A Saturday course for whisky wonks is the grandly named Glenfiddich Gourmet Cookery School for Men held at the Edinburgh School of Food & Wine (£130) – the goal, and an admirable one at that,  is a three-course dinner accompanied by single malts.
Don't laugh. No, I said don't laugh! The Fairyhouse Cookery School in County Meath, Ireland runs a number of  one-day course such as Licensed to Grill (€120). Send your man there at your own behest – no, really it's a great cookery school.
For semi-polished budding foodies the two-day Gentlemen's Relish course at Ashburton Cookery School in Devon concentrates on getting masculine classics right such as the perfect Sunday Roast, 'fat chips' and sirloin steak (£289).
A six-hour course on the weekend for wannabe Jamie Olivers is held at Cook's Academy in Dublin city centre (€150) well placed for a few Guinness on completion.
For more male orientated cookery courses as gifts visit www.lookingtocook.co.uk
By Tristan Plowman