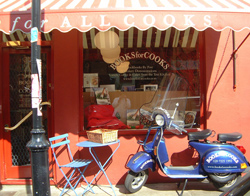 Basic ingredients: Eclectic ethnic cuisine workshops take place in a custom-built kitchen upstairs above London's only bookshop dedicated to cookery books. The £40 price includes a three-hour demonstration, tasting and usually a glass of the owner Eric Treuille's  biodynamic red wine from the South of France. Courses explore fascinating cuilnary niches such as Flavours of Babylon, dim sum, Jewish Italian, Slow Cooking and Lebanese stews.
They say: In this shop we really do cook the books – cookbooks are put to the test in our café at the back of the shop, while cookery classes take place in the demonstration kitchen upstairs.
We say: This is the place to see bestselling ookbooks brought to life. An independent London foodie institution that offers great value.