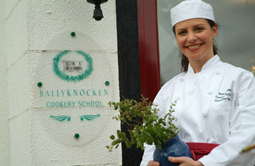 Basic Ingredients: Located in a country house on a 350-acre farm only a short drive from Dublin city centre, this award-winning cookery schools is run by gregarious TV chef and food writer Catherine Fulvio (pictured, right). There's a broad range of courses including Irish baking, Southern Italian, Gourmet on a Budget, and Tastes of Thailand, Spain,  and Vietnam.  Italian fare is a speciality (Catherine is married to a Sicilian). Ballyknocken is now a renovated guest house and home to hens, an organic vegetable garden, an extensive herb and soft fruit garden, as well as a herd of sheep. Hands-on courses from £30 to £100.
They say: Give us enough notice and we can do a "drive by and bake" where you'll learn about Irish baking in an hour and then you can scoff the results with a nice cup of tea and be on your way.
We say: Everything you want in a general cookery school: good value, jolly chef, variety (check out the 20 Things to do with Rhubarb course), charming Victorian farmhouse.
Contact:
Ballyknocken Cookery School, Glenealy, Ashford, Co Wicklow,Ireland
+ 353 (0) 404 44627;
www.ballyknocken.com