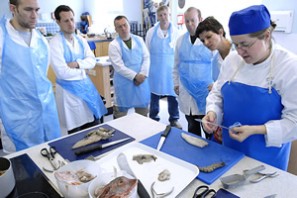 Basic Ingredients: Classes for up to 16 people take place in a kitchen above the market with a resident fish expert. Morning courses, a combination of hands-on and demonstration, start at 6am with a tour around the UK's biggest inland fish market where you find out about such things as the sharp teeth on hake, the sex lives of scallops and why chefs love monkfish. Half day, evening and Saturday courses might appeal to the later risers – and there are masterclasses, knife skills, and parent and child offerings. The classic 'Catch of the Day' is £185 promising fish to take home.
They say: Whatever your doubts we endeavour to make you feel more comfortable with all aspects of fish: taking you through buying (the good signs and the bad), preparation (guts, scales, heads, filleting — the lot), and cooking.
We Say: Over 120 species of fish and shellfish come into the market every day so you won't be short of ingredients. Fish Fighters Hugh, Jamie and the boys would approve of the commercial courses which support free ones for young people, teaching them about sustainable fish stocks.
Contact:
Billingsgate Seafood Training School, Office 30 Billingsgate Market, Trafalgar Way, London E14 5ST
0207 517 3548;
www.seafoodtraining.org