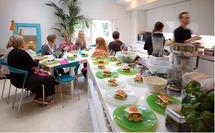 Basic ingredients: Canadian born Tertia Goodwin runs London's first cookery school focused on international cuisines. A drab main road doorway leads to a spacious all-white ultra-cool Hacker kitchen. There are about a dozen different courses a month including Vietnamese, Brazilian, Sri Lankan, Mexican, Catalan and a curry masterclass and Tertia tries to add new cuisines regularly. Many courses are taught by top-notch guest chefs such as Ready Steady Cook regular Maria Elia, head chef at the Kings Arms in Berkhampstead. Evening courses run from 6.30pm to 10.30pm and cost £65; full day courses cost £130. Class sizes are no more than 10 people and always end with a feast.
They say: Our chefs are all restaurant chefs or caterers or passionate home cooks who have been taught their cuisine by generations before them. Nobody goes home hungry.
We say: Expect a colourful evening peppered with Tertia's globetrotting gastro-tales and revel in the high-end designer luxury of this near-perfect kitchen. In summertime there is an outdoor patio with barbecue. The razor sharp Global knives are sharpened by a local sharpener: www.claphamknifesharpening.co.uk.
Contact:
Authentic Ethnic Cookery School, The Studio House, 165 Battersea Rise, London SW11 1HP
0207 223 6236;
www.authenticethnic.co.uk