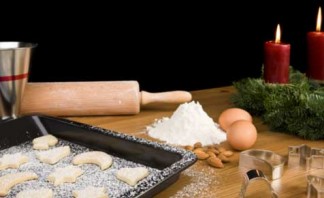 From a traditional Christmas preparation course to smoked mince pies, the following cookery schools have got your back covered this festive season.
1. Tante Marie's two-day Christmas cookery course will take the stress out of the big day by guiding you through a mouth-watering array of essentials and extras. Dishes on the course include pork and pistachio pie, cranberry chutney, honey and ale mustard, game hotpot with parsnip bubble and squeak patties, Christmas crumble tart, and chocolate, cherry and hazelnut terrine. You can take the food home with you to freeze ahead of the main event – though you'd be forgiven for eating it early!
Course costs £295 for two days, including lunch and wine.
See what other customers had to say about Tante Marie on Looking to Cook
2. For a unique take on traditional Christmas foods try Smoky Jo's  'Smoking For Christmas' course. The course is based at the Wild Boar Inn and Smokehouse on Lake Windermere but run by Smoky Jo herself. Guests will smoke their own hot smoked salmon for lunch, as well as a tempting selection of Christmas food: goose breast, duck breast, ham, turkey, cranberries, almonds, scallops, trout and salmon. Also on the menu are mince pies made with smoked flour and we hear great things about the smoked tomato juice Bloody Marys. Guests staying at the inn can walk in the forest or relax around the log fire while chefs whip up a feast of smoked goods to enjoy with wine.
Course costs £109 including dinner and wine. B&B at the Wild Boar is extra, but discounted. Partners can attend the evening feast for a £30 supplement.
See what other customers said about Smoky Jo's here: facebook.com/lookingtocook
3. The Vegetarian Cookery School in Bath offers a range of Christmas courses, including vegan Christmas baking and vegetarian mains. We're picking the full day 'Vegan Christmas Cookery' course, which promises to banish dreary meat-free alternatives in a combination of classics and modern twists. Cooking on the day includes a centre piece for the main meal with all the trimmings, a starter, a dessert, treats and canapés. Head Chef Rachel Demuth promises plenty of tasting breaks and at the end of the day you all sit down to enjoy the fruits of your labour. With the offer of a glass of mulled wine to take with you while exploring Bath's evening Christmas Market you're sure to be feeling festive.
Course costs £140 including food and wine.
See what other customers had to say about The Vegetarian Cookery School here: http://lookingtocook.co.uk/the-vegetarian-cookery-school/
4. If you fancy impressing your guests with an unusual festive spread then Cookery School at Little Portland Street has the perfect option. The 'Scandinavian Christmas Smorgasbord' will have you preparing a traditional six-part feast, with a little help from Aurell of Scandinavian Kitchen. Dishes to be prepared include an easy crisp bread and a classic rye bread, pickling and curing fish with recipes from Sweden and Denmark, skagenröra, (seafood salad), fried plaice with remoulade dressing,  Swedish meatballs – köttbullar, and roast pork with apples and prunes served with caramelised baby potatoes, a traditional beetroot salad and Jansson's Tempation… Round off the day with cheese tasting, saffron buns, rice pudding and glogg.
5. Edinburgh New town Cookery School has courses covering everything from Christmas wine to carving skills. We particularly like the sound of the Christmas Baking Day, a course which promises to help you have all your sweet seasonal needs covered in one go. Recipes include stollen cake, mince pies, cinnamon shortbread stars, and pear, pecan and cranberry muffins. They also run a version for children aged 9-13, where they make chocolate shortbread stars, decorated Christmas cupcakes, chocolate brownies, and sweet orange and cinnamon bread.  Sweet.
Adult course costs £150 and includes lunch. Children's course costs £45. You take home all your baking.
Read our Cookery school Q&A with head chef Fiona Burrell here
6. Edible gifts are always a popular choice and at Cordon Bleu London they give the gourmet touch to your delicious concoctions. The Gourmet Gifts Christmas workshop promises to cover a range of useful kitchen skills including ganache making and preserving techniques. The experienced tutor guide you through producing and packaging a range of treats including biscotti, pain d'epice, flavoured oils, preserves, and seasoning mixes. The challenge will be to give them away!
Course costs £245 and includes all ingredients, gift packaging, an apron and tea towel.
See what we say on Looking to Cook about Cordon Bleu here
Don't forget that the majority of schools offer gift vouchers – a perfect present for the foodie (or culinary novice) in your life.