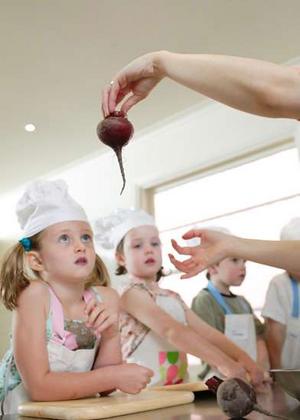 It won't be long before the summer holidays are upon us. Following grown-up footsteps and palates, children's cookery clubs and classes are springing up all over the country. Many cookery schools offer courses for children but there are individual schools dedicated to kids in the kitchen. Here are a few of the best in West London.
The Kids' Cookery School in West London is a registered charity whose aim is to teach children to cook, hoping that it will encourage them to make sensible choices about what they eat. Classes are very hands-on and students are prompted to taste and touch all ingredients. From fajitas to scones there's always plenty of food to take home and show-off to the family (£30 for a 2.5hr afternoon session).
Trendy London gelateria Dri Dri based in Portobello Road runs ice cream making classes where the children design and colour in their own stickers before mixing fresh fruit, chocolate and dairy ingredients in a 1950s' ice cream making machine (£15 for one hour; and take home whatever gelato hasn't been scoffed on site).
Every other Monday at 5pm Whole Foods Market in Kensington organises a different class from sushi rolling and cake decorating to seed planting in a bid to convert your mini eaters into little kitchen helpers and gourmet growers.
Cookie Crumbles, based in West London, offers a wide range of cooking activities for children and teenagers from 4 – 18 year olds. They claim to have taught more than 10,000 children to cook since it was set up just over seven years ago and they vow: "Even if your children have never cooked at home before, they will enjoy the squidgy messiness, the tasting and creativity of being in charge of their own party food, and they always leave the place spotless afterwards!" (£165 for 6 children for two hours)
For more children's courses nationwide visit Looking to Cook's children's cookery classes listings
Contact: Young kitchen cadets