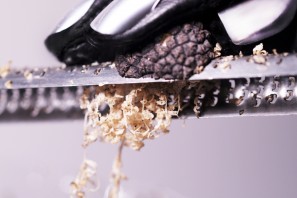 One of things I liked best about the inaugural truffle supper club held at chez MisterTruffle in Maze Hill, South-East London on Saturday was that the host linked up with his local wine shop – the excellent Theatre of Wine – who kindly produced a selection of recommendations to match each of the five courses on the menu. So most guests dropped by the wine shop and had a tasting or two before picking up a bottle and tackling the hill (those of us on foot). See the results below.
The evening was a triumph for chef Richard Hards who has been frustratingly kept out of the kitchen recently due to a motorbike accident. He had 150g of white truffles from Alba to work with across five dishes for 15 people. For me the stand-out dish was the ham hock terrine with sauce grebiche and truffles but there was a unanimous groan of pleasure for the way that his rum and pecan pies, complete with hearty crusts, were complemented by white truffle ice cream.
Canapes
Truffled quails egg on brioche toast
Ham and chips, with 2 day "ketchup"
Smoke mackerel pate and pickled cucumber on melba toast
Wine Suggestion:
Champagne Paul Dethune Ambonnay Grand Cru ( £29.30).
 Starter
Ham hock terrine with sauce grebiche and truffles.
Wine Suggestion (for Starter and Fish Course):
Guillaume Chardonnay Vieilles Vignes 2009    £15.50
Domaine Vincent Girardin Santenay Blanc 1er Cru 'Beauregard' £23.10
Fish Course
Seared scallop on truffle infused risotto
Main Course
braised brisket, roasted chantennay carrots,  creamed potatoes, truffle and red wine sauce
Wine Suggestions:
From Italy:
Albino Rocca Rosso di Rocca 2010 (Nebbiolo + Barbera), Piedmont    £12.60
Albino Rocca Nebbiolo D'Alba 2009, Piedmont    £!9.70
From France:
Dom.Castan Cotes-du-Rhone Villages 2009, S. Rhone    £10.40
Chateau Fourcas-Dupre 2004 Listrac-Medoc, Bordeaux    £19.30
Dessert
Rum and pecan tart with truffle ice cream
Wine Suggestion:
Samos Nectar (100% muscat), Greece    £9.00 per half
Contact: Truffle ice cream anyone?