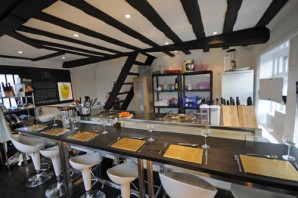 Basic ingredients: This Essex-based cookery school was started in 2008 by Ann Hood, an ex-MasterChef contestant. The varied expertise of her and an assortment of chefs means that the school offers courses on everything from Indian classics to an Italian blow out with Valentina Harris. Most classes are held in their modern timber-roofed cook shop, with just six places, ensuring lots of individual attention. For larger groups and corporate workshops there are half a dozen luxurious locations to choose from nationwide.
They say: We are an intimate dining and learning experience, where you can gain insider tips and tricks of the trade from specialist and celebrity chefs, in an informal and relaxed atmosphere. The ingredients used are fresh, local and delicious, the tuition is professional and down to earth, and the completed dishes, sublime.
We say: The laid-back atmosphere and lack of pressure make it a fun and relaxing experience. The recipes are easy to replicate, so many of the "trainees" are able to put their new found skills into practise when they get home.