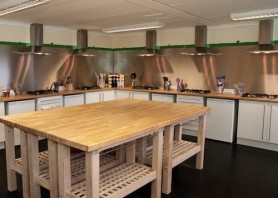 Please note: As far as we are aware Laverstoke Park is no longer running cookery courses.
Basic ingredients: Run by science-centric chef Paul Blake and located at the core of Jody Scheckter's organic/biodynamic farm in Hampshire (aka 'The University of Organics') this new, purpose-built cookery school places a firm emphasis on provenance and promoting the farm's philosophy of 'field to fork'. A very reasonable £59 will pay for a three-hour, three-course hands-on workshop and includes a tour of the farm. All three seasonal workshop dishes are made from scratch using the farm's wonderfully fresh vegetables and plentiful supply of meat, resulting in 'healthy and affordable dishes'. It's what you'd expect from a farm whose motto is: Healthy Soil = Healthy Grass = Healthy Animals = Healthy Meat and Milk = Healthy People. Bespoke classes can be arranged for groups of 12, bringing the cost down to £50 per person and corporate packages offer anything from a simple farm tour to a full week of courses.
They say: Our cookery school takes full advantage of the beautiful backdrop of Laverstoke Park providing pupils with a great insight into the farm, not usually seen by the public.
We say: Check out the website which often features special offers, competitions to win free courses and plenty of interesting background on the farm.
Contact:
The Cookery School at Laverstoke Park Farm, Overton Road, Overton, Nr Basingstoke Hampshire RG25 3DR
0845 838 7335;
www.laverstokepark.co.uk