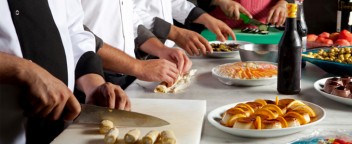 A kitchen report from a new cookery school in the City of London
The class: A three-hour Fish Masterclass was on the menu.
The school: The recently opened Class Rooms Culinary Academy is located not far from Fleet Street in the former Daily Mail headquarters. The building itself is a historically grand affair, with the heavy double doors parting to reveal a very modern and plush interior. The academy offers a good variety of courses such as bread-making, knife skills, desserts, poultry and Italian, all competitively priced at £59-£99 for 3 hours. It's a convenient way for time-starved people to pick up some useful skills and experience some group fun of a weekday evening.
The philosophy: After settling in with a drink at the swanky bar, Director of Studies, Iris Borosa, told me that she had the idea for the Culinary Academy after travelling the world and realising that  people recognised Britain, and in particular London, as a desirable culinary destination.
Despite the presence of well established and prestigious schools such as Leiths and Cordon Bleu, and with so many more popping up around Britain, Borosa considers the British cook school to be a burgeoning institution, but claims American schools are far better run and the culinary arts taken a lot more seriously in the US.
With this in mind, and with more people turning to cookery for both leisure and work, the CRCA offers amateur classes as well as diplomas; the latter being City & Guilds and ASIC accredited for those who want to pursue a career in food. The first flush of these courses are still ongoing so it is hard to gauge the overall success of the students studying there.
Hands-on: Our group was taken down by lift deep into the bowels of the restaurant to the kitchen. I fully expected to be met with the sight of men in white running around looking flustered so was surprised when our class tutor, Gregory Nicholson, calmly introduced himself with a gentle handshake and affable smile.
Such a relaxed demeanour is particularly impressive when you consider Nicholson has trained and worked in a variety of high pressure environments including the kitchens of Restaurant Marco Pierre White and Le Gavroche. He also has a background in chef lecturing with some practical teaching experience, which was immediately apparent as the class got under way.
With a chirpy and humorous approach, Nicholson ran us through the first course: a rather simple but satisfyingly fishy Thai seafood curry showcasing cod, prawns and squid. Some techniques were left out of the process owing to the fact that the seafood had largely been prepared in advance but we were given a demonstration of how to de-shell and de-vein the prawns. Each of the two courses were first demonstrated by Nicholson who provided running commentary and patiently answered  the numerous questions cast his way. After each demonstration it was our turn, in groups of four, to prove just how much or little we'd taken on board. The teamwork was fun, the aesthetic results mixed but the flavour of each dish uniformly spot-on judging by the murmur of 'mmms' around the kitchen.
Crucially the fish tasted fresh and, as our tutor pointed out, smelt of the sea and not 'fishy'. Other pointers were provided as well as tips such as the use of a boning knife to fillet a fish. Far better, according to our tutor, than a filleting knife at getting a cleaner, neater fillet from the slippery devils due to it's firmer blade. Even though we were cooking with it for the main course, we were also advised not to use mackerel and other oily fish for fish stock but rather white, meaty fish with most flat fish being the superior option.
The filleting of the Mackerel was the most technical procedure being followed which, when left to us pupils, resulted in a kind of butchery session producing various shapes and sizes. However, once generously seasoned, baked and accompanied by ecrasse potatoes, green veg and sauce vierge each fish reassuringly met with a dignified end.
It was for this second and final course that we retired to the dining room to chat, enjoy a glass of wine and then be served our plates of food for which another pupil wryly offered "compliments to the chef!". We had written our names on our own plates so we knew that we were judging our own efforts, all of which kept the dining experience pleasant and jovial. Impressively, the Class Rooms' kitchen was used for several months as the set for the BBC's Great British Menu in 2006 but on my courses any competitive element had been replaced with a sense of team bonding.
The verdict: Overall, this was an enjoyable and informal experience with a good balance of demonstration and 'hands-on' practice, providing an insight into workings of a real restaurant kitchen. Being grouped at kitchen worktops and dividing the duties evenly – all while grappling for stove-top space with an adjacent Vegetarian Masterclass – injected the proceedings with an authentically stressed atmosphere that proved getting that hot plate of food to the pass really is a rewarding experience.
For a three-hour class, I would've liked there to have been more than two courses on show as some other schools offer easily 3-4 courses in the same time period. Admittedly, where this school differs from many is that they  provide a full demonstration of each dish from start to finish so you know exactly how it should be done and each student gets to produce their own plate of food.  This is a good way to learn and provides more opportunity for discussion before getting stuck in. It also allowed us to ponder the riddle of labels on fish sauce bottles: namely why does a product made from fermented anchovies always feature a picture of a squid? Some things can never be learned…
Contact: The Class Rooms Culinary Academy
26 Tudor Street, London EC4Y 0AY
(0207 822 2330 ; www.tcrcacademy.co.uk)
By Tristan Plowman