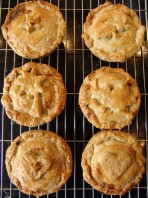 Marika Gauci, founder of Marika's Kitchen cookery school, runs "London's only pie-making class", which sees its welcome return this year in the form of Sunday Pie Club. With the trend for good quality, inexpensive pie-shops spearheaded by the likes of Square Pie and Pieminister, we're clearly a nation that's fallen back in love with this humble fare.
Formerly operating from a professional bakery in Muswell Hill, the class has now relocated to the wonderfully accommodating Central Street Cookery School in Clerkenwell and early indications of its continued popularity are promising.
This being a Sunday morning, there were a few 'pie-eyes' around the table, but we were swiftly warmed-up after the ice-breaker, which involved each of us in turn declaring our individual 'claim to fame' – real or invented. Marika went first and, to hear her story, you'd have been forgiven for thinking she was telling 'porky pies'.
A background in music, a Top Ten hit, EMI record deal and the proud achievement of backing singer for Bryan Ferry, seems an unlikely path towards experienced chef and cookery school tutor, but apocrypha this is not.
Food, it seems, was a latent passion for Marika but clearly borne of her upbringing.  Holidays were spent in Corfu with her Greek father's family, surrounded by good food and fresh ingredients, and the skills of her mother, "an amazing cook", provided an early culinary education, including 'master classes' in home-cooked Mediterranean cuisine.
Marika never lost the desire for home-cooked food and when her cookery school was established in 2009, classes were conducted from her own kitchen. Clearly her rock 'n' roll past hasn't been entirely abandoned either. Greeting us today, she was dressed, endearingly, in New Wave garb and allowed the boombox in the corner to churn out an Eighties' soundtrack.
Unpretentious? Check. Fun? Check. Relaxed? You get the idea, but we can also add simple to that list. Today was about one classic pie, done to perfection. Feeling initially dubious – were we to get our money's worth? – it became clear this would allow us to focus on some important pie-making principles. Today's recipe was a chicken, leek, bacon, mushroom and tarragon pie with parmesan pastry crust housing a creamy, rich mustard lacquer. The sort of pie you know will satisfy, before you've even unwrapped the butter.
To kick off, we assembled around the worktops in pairs, partners in slicing, dicing and meat-browning crime. After the chicken was bronzed in the pan, remaining ingredients for the filling were added and salt applied. First useful tip was to avoid salting the meat before cooking as this extracts the moisture, resulting in that all-too-familiar cotton-dry chicken. Not nice. Or pukka, for that matter.
The filling was prepared in one pot, like a stew. So far, so simple. I've always preferred the one-pot method of cookery, whereby ingredients are thrown in and fingers crossed. There is normally ample opportunity to correct the flavour with seasoning, spices or condiments. However, what followed was the bit I'd feared from the off. The pastry prep. The delicate science of such a procedure has always proved intimidating to someone like me.  Too lazy to bother with precise measurements, I don't even own a measuring jug. Also, at this point, we were flying solo. A bowl of flour each meant we were to prepare our pastry individually. Good news for someone who likes to get stuck-in, and claim proud ownership of their doughy handiwork, bad news for anyone looking to blame their cack-handedness on someone else.
So I was delighted to learn of the 'half and half' principle, which simplifies the whole business. Take a starting weight of flour, in this case 500g, add half the weight of fat – so 250g of butter or lard – and then half that, in millilitres, of water. A pinch of salt in the flour, to add depth to the pastry, is advisable and, as with this recipe, a small handful of parmesan is a most welcome and decadent addition.
Cubes of butter added to the flour should be fridge-cold to ensure a crumbly mixture, which is also achieved with a delicate, finger-tip approach to mixing. This, we were told, is the opposite to making bread where a naturally more heavy-handed technique will "wake-up the gluten". What you want is something, fine, light and airy, which will result in a soft, crumbly crust. This is also achieved through the use of butter rather than lard. As with a pork pie, lard as the constituent fat, means an oilier, crisper pastry.
Again, forming the dough here requires less work than bread. No need to knead. Just turn out onto a floured surface and shape with cold hands into a flattened ball. Once this is popped into the fridge for half an hour to firm-up, it's time for a break, whereby salivary glands are given the opportunity to work up a sweat.
Meanwhile, the filling is cooled in the pot, which is submerged in a sink full of cold water. This, and placing the pie in the oven on a preheated baking tray, avoids the all too common pitfall of a soggy-bottomed crust once the pie is baked.
After a quick natter and copious amounts of tea and coffee, it's time to bake, so we reconvene to assemble the pies. Given three foil containers per person, each with the capacity for a deep-filled behemoth, we begin to line the tins. Acting swiftly, the pastry is rolled after each half-turn of the dough-y disc, until it is the thickness of a pound coin. Both work surface and rolling pin are floured to prevent the dough from lifting and sticking as it warms.
From this point, the pastry case can be used as a guide to cut a circle out of the dough, large enough for a generous overhang, which helps to seal the lid. This is dropped into the case and pressed down using finger-tips. We were encouraged to be quite bold in moulding the pastry to ensure lining of even thickness. Next the is excess is trimmed, allowing a little to remain for an egg-wash, which helps to harness the lid. Once sealed, the remaining step is a decorative flourish assisted by cutters that are 'star-shaped', 'crotchet-shaped' and even 'frog –shaped', ensuring the predictable leaf decoration is eschewed. Now it's just a case of popping these into the oven for half an hour and praying things don't go 'pear-shaped'.
The results, however, proved very much 'pie-shaped' and smelt delicious to boot. The yield is generous and yours to take home or scoff on the spot, if you really can't wait. Three individual pies means you can stop short of devouring the lot and also impress friends and family by making edible gifts of what you can't manage.
Ultimately, four hours of convivial, hands-on cookery, with all recipes and equipment provided (including a lofty, white chef's hat!) means this is well worth the modest £60. This is great for those who are prepared to get stuck in and learn important principles that remove the fear from pastry. Anyone wishing to gain the necessary skills to successfully do this at home, will be pleased to know that with Marika's expert guidance, delivered in an affable, down-to-earth manner, there's no danger of that notion being pie-in-the-sky.
Much like the pie-cases, classes are filling up thick and fast and it's easy to see why. They're a celebration of that gutsiest British staple in its traditional mould. None of this trendy (read lazy) puff pastry lid atop a meat stew, Marika's pies comprise a hearty filling, encased from head to toe in rich shortcrust. A simple but irresistible premise, I'm sure you'll agree.
As do the experts. Sunday Pie Club has received rave reviews from various magazines, newspapers and online publications, including Delia Online, and in 2014, a publishing deal with Random House/Square Peg for a recipe book, 'Little Book of Pies'. Marika knows her Homity from her Hornazo and strives to replace the common fear of pastry with the fun of a "pie-making frenzy!"
Contact: How to cook the perfect pie