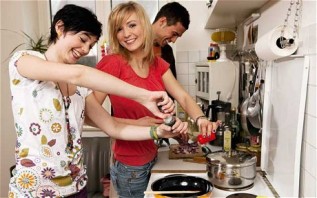 If you are going off to university it is likely to be the first time you will be leaving home and expected to live independently. That means sourcing your own meals three times a day, at least until the Christmas holidays.
Given a limited budget, here are some key things to consider.
Most students will be sharing accommodation and may have limited space to store things, probably just one shelf in a cupboard. So it is essential that you pack only the most important pieces of kitchen equipment.
Students don't tend to do too much high-end entertaining, so avoid spending too much money on expensive gadgets. They are only likely to get lost or broken. A number of  items can be bought from Pound shops. If there are infrequently used, odd items at home, such as pots, pans, cutlery, cups and plates, ask if you can have them.
One thing worth spending a little bit of money on is a non-stick frying pan. It makes life easier when the food takes just seconds to wash up.
Useful items for day-to-day cooking include: a plastic chopping board, wooden spoons, a large and small sharp knife, a measuring jug and whisk, a bowl, potato peeler, a few tea towels and dish cloths, foil, cling film and Tupperware containers for protecting food in the fridge and a few glasses.
When choosing a baking tray, it doesn't have to be non-stick, you can use foil to catch any spillage and to stop the food from sticking.
If you are looking to splash out then it is always nice to have a hand mixer and a baking tin so you can make a cake for a party. A hand blender is also good for soups, sauces and smoothies. And if your mum has a spare table cloth, borrow it, it may come in handy.
Finally, if you are not a confident cook, it may be a good idea to take a few lessons before leaving home, to acquire some basic skills. Many cookery schools such as Let Us Cook have classes which can help build your confidence and give you ideas on how to cook on a budget. See Looking to Cook's list of cookery schools offering cookery classes for teenagers and university students.
Don't forget to have fun cooking!
Contact: Essential cookery kit for freshers