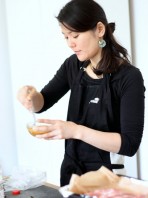 Background: Raised in a traditional Japanese family and inspired by her mother, a 'fanatical cook', Yuki Gomi trained at Le Cordon Bleu and has worked at a number of restaurants including Soul Kitchen in Chicago where she helped to create Asian fusion cuisine. While in London, she noticed people's genuine desire to want to cook Japanese food at home, and responded by starting Yuki's Kitchen, aiming to show how Japanese cookery can be incorporated into every day life.
Her cookery lessons, held at her home in south-east London, focus on themes such as Japanese home cooking, sushi making and bento box classes. There are also private lessons available and parents, in lieu of a babysitter, can bring their kids along to a sushi-rolling class.
Cookery course report: My Japanese Home Cooking masterclass took place in the spacious dining room at Yuki's home in Crystal Palace. it was conducted simply from a portable, electric stove top. Yuki assured us this was in keeping with traditional Japanese methods that completely omit the use of an oven.
I was delighted to be attending this class. Such is my love for Japanese food I could eat it everyday – and I'm certain my doctor wouldn't disapprove – but in all honesty, I have never much seen the point in making it at home, assuming it to be too complicated, time consuming and requiring an additional cupboard to accommodate the various esoteric ingredients.
What I learnt from Yuki during the two-hour class is, yes, there are some unusual ingredients that provide the foundations for authentic Japanese flavours, including sea vegetables (wakame), seaweed (kelp) and lotus root, but other than that the preparation and cooking is quick, unfussy and most certainly not complicated. It seems I have just been too happy to leave it to the professionals in the past.
Also, most of these 'unusual' Japanese ingredients are readily available in the UK due to the many Asian supermarkets. Yuki even recommended visiting a branch of Tesco.
Umami was definitely the flavour of the evening class, which focused, across most of the five dishes, on miso marinades. We started by tasting three types of miso from light to dark. The colour is related to the fermentation period of the soy beans and 'white' miso stems more commonly from Northern Japanese districts,  is often rice based and goes well with fish. Darker, richer miso pastes are exclusive to Eastern Japan and pack a real savoury wallop. In most cases, the marinades were prepared using miso paste, mirin (rice sherry), soy sauce and brown sugar.
To begin, pork loin was marinated then roasted in a white miso sauce and later served with vegetable stir fried Soba noodles, which, we learnt, are incredibly healthy. So popular are these buckwheat blue-tinted tendrils that many Japanese chefs specialise solely in their preparation. Yuki's handy tip was to keep adding a splash of cold water to the pot every time it came to the boil. Apparently, this improves the texture of the noodles, ensuring they remain firm but glossy.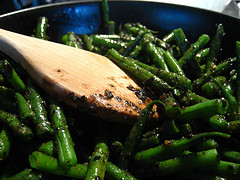 The accompaniments were perhaps the finest things we tasted. A roasted aubergine and red pepper dish was prepared with a sweet, white miso sauce while green beans were cooked with a muddy, dark miso paste using black sesame seeds. I made sure I totally polished off the latter, including my companion's leftovers, simply so I could remember the correct flavour ratios.
In the previous dish wakame was added dry to an egg-drop soup whereupon it swelled to many times its original size. Intimidating though this seemed, the results were clean, light and delicious.
All the dishes during the class were demonstrated by Yuki, with no real hands-on involvement from us, but there was plenty of tasting along the way supported by genuinely insightful information. Besides, everything really did look so simple to make that a tutored test-run hardly seemed necessary and I left feeling genuinely inspired to recreate everything on the menu.
Courses at Yuki's Kitchen start from £55
Contact: Cookery course report: Yuki's Kitchen