Being from Yorkshire I've long been aware of its proud food heritage. So I was excited to attend The Cooking School at Dean Clough's  'Made in Yorkshire' course, which promised to celebrate the bounty of God's Own County.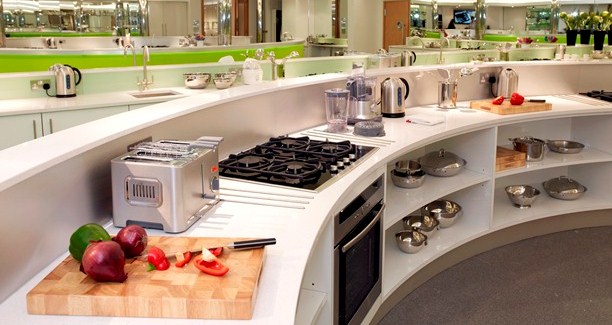 The school is clean, bright and modern, situated in a beautifully converted mill complex on the edge of  Halifax. One entire wall is taken up by serious kitchen eye-candy for sale, though there is a pleasant absence of hard sell.
On arrival each of us is assigned a locker, containing an apron with a name tag. After morning coffee and rolls we are ushered over to the demonstration area, a well thought out part of the space which incorporates nifty touches like two tiered seating and a ceiling mounted camera/large screen to ensure every one can see everything the chefs are doing.
Head chef Matthew Benson-Smith and Assistant Chef Jason Main manage to be both funny and informative, as well as being passionate about their ingredients.  The day is well structured, with demos followed by our attempts to reproduce the recipes, and it's nicely interspersed with tasty nibbles. The menu is well balanced with most ingredients sourced locally, from the extra virgin rapeseed oil to the cheeses and stout.
As we head to our work stations I find myself paired with Laila, a science teacher and something of an accomplished cook in her own right. We chop rhubarb and put it in the oven to roast before prepping our biscuit base for a baked Yorkshire rhubarb cheesecake, and then begin the prep for our Yorkshire pearled spelt risotto with local beetroot, Ripon cured chorizo and Yorkshire Blue. We have been assured that spelt can be used to replace Arborio rice and though most of us look sceptical initially, by the time we sit down to eat our creations for lunch we are wholehearted converts. The chorizo and beetroot pair well together and the finished dish would be an excellent dinner party centre piece, topped off with the Yorkshire Blue.
Over lunch I chat with some of my fellow cooks, (there are 20 of us on the course) including Louise of Yummy Yorkshire ice creams and Peter, who is setting up a food co-operative in his home village. Everyone is very complimentary about the course, facilities and staff. Louise has attended a course here before, while Peter has come on the recommendation of a friend.
In the afternoon we finish our cheesecake, and I am rather pleased with this, my first attempt at the baked version. We also make a gorgeous concoction called 'Yorkshire Rarebit' and a quick bread recipe. The rarebit mixture, we are told, will keep in the fridge for up to a week, though I am secretly thinking this will never happen in my house. During all the cooking the two chefs wander around, giving advice, helping and swapping foodie anecdotes. The atmosphere is very relaxed and everyone clearly produces results they are proud of.
Each time we finish a dish, there is a range of plastic containers for us to pack up the food, and name labels to avoid confusion. It is this level of attention to the attendees' experience that characterises the whole day – each detail has been considered and the whole course runs seamlessly. From the detailed information emailed out prior to the course to the gliding kitchen elves who remove our washing up and adjust our ovens, The Cooking School certainly knows how to look after its students. At the end of the day, I leave with enough goodies to seriously consider opening a pop-up restaurant on the train home.
To see the best Yorkshire produce visit our Pinterest board.
For more cookery courses in Yorkshire
Contact: Cookery course report: 'Made in Yorkshire' at Dean Clough