"What is Irish food? " asked our tutor Shauna Scales. The cookery course answered the question for us – predominantly simple, rustic food that, in this case, is not shy of calories.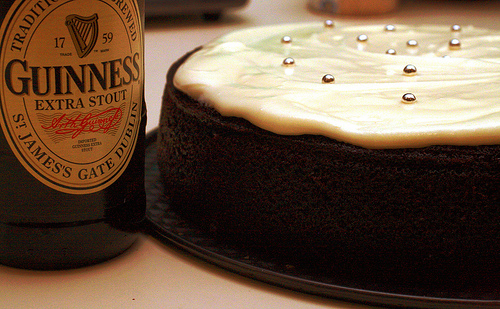 To start, we prepared a Guinness chocolate cake, the richest of the recipes. With artery-threatening quantities of butter and cream, a precedent was set for the indulgences of the day. We were constantly advised not to count the calories. All became clear when we were informed that the cake recipe was nicked from Nigella! Something of a startling admission in an Irish cookery class at one of Britain's most prestigious schools, but I admired the honesty.
Next up was the soda bread which, by now, seems so exclusively Irish it should come with a Protected Geographical Indication status. This was made with half wholemeal, half plain white flour (apparently a classic Leiths recipe) but Shauna said it's a blank canvas and her Gran used to make it sweet, with currants and 100 per cent white flour. Apparently the familiar cross in the top of the loaf is there to 'ward off the devil' and the less frequent process of pinching the edge, ' releases the fairies'. In actual fact, these touches just ensure the loaf cooks evenly but the Irish folklore was  part of the fun.
What the bread released, however, was a blissfully 'cakey' aroma as it baked in the oven, during which time we got on with the first course of cockle and mussel chowder, heralding the arrival, at last, of the beloved spud. Apparently, the inclusion of cockles and mussels, as opposed to more common clams, were a reference to the traditional Irish folk song,  Molly Malone about a fishmonger and prostitute.
Further reinforcing the Irish theme was the second course of creamy salad with Clonakilty black pudding, which has developed a reputation around the UK, as well as in Ireland, and it's easy to see why. Rich, dense and rustic, it married perfectly with the soft boiled eggs, leaves, smoked  bacon, croutons (we were informed these could be replaced by cubed crispy potatoes for a 'suppery', and more authentically Irish, twist to the meal) and sweet baby plum tomatoes.
When the cakes finally emerged from the ovens, dark as stout, we anxiously compared results, and noticed most had sunk in the middle. A fellow student queried how to avoid this. Casually, Shauna  assured us that 100 per cent success is impossible and advised we just turn the cake upside down before icing and serving, a technique almost all of us duly employed (although there's always one class swot who gets it spot on). The result was, cleverly, a cake resembling a pint of Guinness  – albeit a vary wide, flat one – complete with with foamy white head.
An alternative option was to present the cake like a Victoria sponge with the icing sandwiched in the middle and in demonstrating this, Shauna let us in on a  truly magnificent technique where string is tied around the circumference and used like cheese-wire to perfectly divide the cake in two.
Useful tips continued to come thick and fast, much like the butter and cream. We were told how to boil eggs, test for properly baked bread and informed that milk mixed with a little cream of tartar could substitute buttermilk. Techniques were explained and clarified, serving to quash my long held suspicion that a great deal of cookery tips tend to veer toward arbitrary nonsense. For instance, cakes should always be baked on the middle oven shelf for that perfect consistency between crumbly and moist and any alcohol used in baking, Guinness in this case, needs to be completely burned off otherwise it 'retards' the cake, which then won't rise properly. All these tips were delivered casually and pleasantly, in keeping with the laid back style of tuition.
In fact, the whole day was remarkably relaxed. I suppose, as a leading UK cookery school, I was expecting no-nonsense professionalism and while they were thorough –  recipes were already written down but then explained in painstaking detail – the tutors, Shauna and assistant Mark, were very affable and approachable.
At the end they plied us with wine and sent us packing with a whole cake and loaf of bread each as well as enough leftovers to last a week. Initially, I took this to be in the spirit of the benevolent Irish  but then I suspect it's typical of Leiths School of Food and Wine in general. After all, they run a vast number of courses and want you to return. I for one fully intend on doing so.
For more information on cookery courses at Leiths and read an exclusive Q&A with Leiths' managing director Camilla Schneideman.
Contact: Cookery course report: Taste of Ireland at Leiths