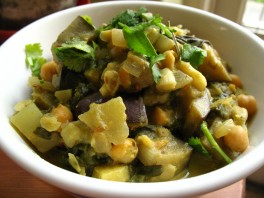 Jamie Oliver, as we all know, is on a mission to get those of us who don't cook into the kitchen. Now, I cook, often when I ought to be doing something else, but I'm still partial to a bit of the cheery and inclusive Jamie attitude, and this is exactly what I got – lashings of it – on a recent visit to Jamie's Ministry of Food, Leeds.  The ministry is tucked away inside Leeds Kirkgate Market, which on the outside is soaringly beautiful. Inside things are a bit less breathtaking, but the school itself is sparklingly clean, with an inviting open plan work station and a bustling vibe.
There are six of us there for the morning session. Five of them are regulars on the ten-week course, I'm more of an interloper, but I'm quickly invited to join in and made very welcome by all the group. This is week six and, impressively, this is also the second course they have all taken with the school. As we mill around getting cups of tea and hanging our coats my fellow students are quick to share their enthusiasm for the place and the staff.
The sessions are short, at only one and a half hours a time, so we are soon settled around the workspace, where Simon Chappelow, our chef, talks us through today's menu of spinach, aubergine and chickpea curry (see above right) followed by baked apples. Actually we start with the apples, and Simon has each student do a bit of the preparation, before bringing the whole together himself in a glorious smelling concoction which he pops in to the oven. During this process he explains the whys and wherefores of each step, such as the need to score the apples so they won't explode in the oven – Hilda, to my left, seems disappointed this won't actually happen.
We move on to the curry,  which has been chosen with Hilda in mind, who is a vegetarian. On weeks when the dishes contain meat the school provides an alternative for those who don't eat animals, which seems thoughtful, and typifies the inclusive approach of the whole establishment.  Simon starts by showing us all how to do the first eight steps of the recipe,  making sure each student is confident in the skills from earlier sessions, frequently asking us how to chop, peel, mix and keep things tidy.
At this point Arthur, the knife-grinder,  wanders in to the kitchen with the knives he has just sharpened and enlivens proceedings with several exhortations not to chop off our fingers. Simon repeats this throughout our own efforts, 'Sharp, careful, sharp' becoming something of a morning mantra. They are indeed beautifully sharp. I find myself making a mental note to get my own paltry set sorted out when I get home. Having coated our aubergine chunks in a mixture of cumin, coriander, turmeric and chilli powder we leave them to absorb the flavours and all attempt to chop an onion the Jamie way. We also use the patented ginger peeling method, which results in me getting ginger juice in my eye, but I seem to be alone in this misfortune.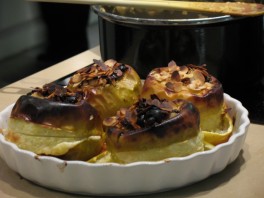 Each of the class members is chatty and clearly comfortable in the environment, and all are keen to point out that before Ministry they really didn't cook at all. There is a pleasing camaraderie which complements the slightly hectic time scale, and Hilda doesn't blink when I accidentally put her garlic and ginger in my pan. Sue, on my right, lets me parboil my potatoes in with hers and makes sure I can find everything – in turn I master the modern hob settings which she finds unfathomable. Simon keeps his friendly eye on us all and makes sure everyone is keeping up.
There are several other members of Ministry staff around, including two who are chopping a disconcertingly huge pile of carrots. It turns out they need these to make a vat full  of soup for an activity tomorrow, which is reassuring as neither our curry nor our apples call for carrots in any quantity. Simon emphasises that that the recipes are not set in stone and he encourages us to use them at home as the basis for experimentation, adding sweet potato to the curry instead of aubergine, for example.
With our curries cooking Simon dishes up some of his so we can try it. It is hearty and the aubergine has just the right consistency. In between mouthfuls I ask my fellow cooks what they like about the school. There is a consensus that it really has given them inspiration to cook, and the market setting means they can pick up whatever they need on the way home. Martin does confide he wouldn't eat like Jamie Oliver every day, but he has felt confident enough to make some delicious peanut sweets for the group to share. Sue is sending her granddaughter on one of the holiday club courses. Hilda made a stir-fry for the first time at home last week, and was thrilled with the result. With this, there is time to grab a bit of baked apple, and then every one produces their containers to take home their food. I, typically, have not brought anything and it feels like being back at school without my gym kit, but everyone bustles round until I have a container to take home my curry, and a bag to carry in it too.
In such a short space of time we learnt new skills, made dinner, ate lunch and laughed an awful lot – if that isn't a recipe for success I don't know what is.
Contact: Cookery course report: Jamie's Ministry of Food