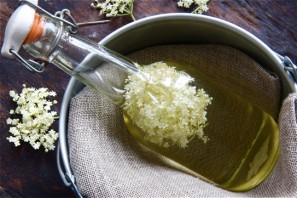 It might have been a grey and cloudy afternoon outside, but in the kitchens of the Yorkshire Wolds Cookery School the feeling was pure summery warmth.
I travelled out to the school, located near Driffield in East Yorkshire, to take part in the afternoon class temptingly titled 'Preserves, cordials and booze'. The school itself is part of a smartly converted set of farm buildings, which also houses a bed and breakfast and conference centre.
Leiths' trained head chef Ali Bilton greeted our class in the spacious yet cosy kitchen and showed us around the equipment we'd be using – including some rather impressive induction hobs. As we enjoyed tea with fruit and seed flapjack, the delicious smells of lunch being made for a residential tapestry course wafted through the kitchen, adding to the welcoming feel.
First up was gooseberry and strawberry conserve. Ali got us topping and tailing our fruits, though we somehow all drifted to her workspace to do this, creating a feeling we were cooking with Mum. As we heated our fruit and sugar the smells from the pan were mouthwatering. Ali told us that conserve is simpler than jam – no fiddly setting point –but equally as good (I can confirm this). She mentioned that we could easily use other fruits, too, such as raspberry or rhubarb.
Conserve safely in jars, Ali demonstrated the method for making Crème de Cassis, a blackcurrant liqueur, and explained that she prefers soaking the fruit in the alcohol without adding sugar. Instead she recommended making a simple sugar syrup to add before serving, this gives you greater control over the sweetness of the end product. The course literature seemed to imply that we'd be making all of these recipes ourselves, which wasn't necessarily the case; it could have been clearer on the mix of demonstration dishes and hands-on practice, though these did balance out well during the afternoon.
Other demonstrations included limoncello, in this case a delicious lemony flavoured vodka which can be prepared in just a couple of weeks and a quick strawberry purée which can be strained through a sieve and served with glasses of prosecco, which was also delicious. Fellow students began to talk about various fruit enhanced alcohols of their own – Cath, who was attending the course as a birthday present, had turned her hand to sloe gin before, but was now keen to try Ali's limoncello.
We also made a base syrup for lemonade which can be mixed with sparkling water, still water or as a base for cocktails and we had a go at elderflower cordial. These both added to the summery smells infusing the kitchen, and when the afternoon rounded off with a cream tea featuring strawberries with mint, and elderflower cream it seemed surprising to look out the window to still see the rain.
The afternoon was full of useful tips such as how to sterilise bottles – large pan, plenty of newspaper, boiling water, 20 mins – and how to avoid that necessity: freeze your cordial. This, combined with the pleasant atmosphere and genial company, created a worthwhile experience. I've always wanted to make cordial and I'd definitely feel confident making it again at home – which is pretty much the litmus test of a good cookery course.
I left, full of scones and fizz, with new skills and a lot of cordial, lemonade and conserve, as well as a recipe booklet and lots of new ideas. So for £55 it was an absolute bargain.
Click here for more information on courses at the Yorkshire Wolds Cookery School
Contact: Cookery course report: cordials and booze at Yorkshire Wolds