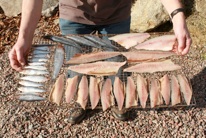 Basic ingredients: Unique two-day home-smoking and Aga cookery courses sourcing its ingredients from a working eco croft. Run by former rural Scottish chef of the year Sukie Barber and her husband Bill, the classes offer a practical guide to simple, tasty food the way it used to be done. Flexibly organised, courses can be arranged to suit individuals or groups of friends and vary depending on what you want to learn.
They say: An article in The Sunday Times from 2008 rated Bluebell as one of the best cookery holidays in the world and described it as having 'staggeringly lovely fare'. Be sure to join us on an informal foraging sessions where, depending on the time of the year, we show you how to identify various edible fungi, berries and leaves.
We Say: Three nights including all meals for £300 is good value – plus go foraging, milk a Jersey cow and learn how to build a smoker. It's practically a survival course. Just with top quality country grub and nicer accommodation.