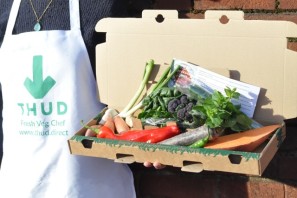 The thing about cookery courses is that once you've done one I always reckon that you need to cook the dishes again. Soon. Not once but at least three times in as many months to effectively "learn" those recipes. If you have a mental picture of the process saved in the recipe file of your brain then you are much more likely to both recall it and make it again.
The latest trend for recipe driven delivery boxes provides a type of cookery class without a tutor. Instead you receive the ingredients, a recipe with photo and step-by-step instructions. Then you're on your own.
So one of things I like about recipe kits – apart from the obvious convenience and the lack of waste – is they challenge you to break free from your tried-and-tested repertoire and make a new dish. Or a familiar dish in a slightly different way.
Thud's USP is that you don't have to wait around at home for delivery or, if you're out at work, leave the box and its ingredients wilting on the doorstep all day. A Thud vegetable box is long and slim and fits nicely through most letterboxes, although it took some rejigging of a crowded top shelf to fit into my fridge.
The packing is neat. You'd want these guys doing your suitcase if you only had cabin-sized luggage on a long-haul holiday. Presumably the contents are limited to non-bulky veg. You'd have a job closing the lid on plump aubergines and twisty sweet potatoes.
One of the best parts of receiving a Thud box is the element of surprise as you "unzip the zip strip" to discover the week's fresh ingredients. It's like having a birthday once a week. Inside my box a lovely bouquet roll of herbs is tucked under a slim cardboard lid and a courgette and asparagus spears are secreted in a box within the box.
Recipes are clear, colourful and peppered with creative touches. It's the small things that I might ordinarily neglect in the name of speed and habit, such as adding lime juice and zest to the rice, using fresh coriander and resisting the urge to cook the shallots, all of which add a zing and depth of flavour to the Mexican inspired recipe in my box.
For a more detailed guide an email with step-by-step photos of the dish being made is sent to subscribers on the day of delivery. Unusual vegetables such as flower sprouts and purple carrots frequently crop up.
It's worth noting that not all the ingredients are provided. You need to have staples in such as rice or pasta or be prepared to adapt some of the recipes. Burritos required tortilla wraps which I didn't have and the asparagus, courgette and rocket pasta suggested creme fraiche or mozzarella to finish off the dish. I improvised with extra rice and avocado, and roasted halloumi respectively. Both were delicious. As satisfying as a thud on the doormat.
A Thud box costs £10 for two meals for two people a week.
For more information: www.thud.direct
Contact: Fresh veg based recipe kit is like a home cookery class