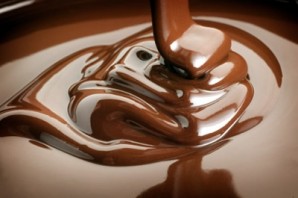 In the latest episode of Heston Blumenthal's new cookery show on Channel 4 he talked about how chocolate needs to be treated 'sensitively' in the kitchen. The superchef argued that when cooking with the ultimate seductive ingredient it needs to be 'seduced' in order to bring out the best of its flavours and textures. Couple this with a BBC report from a few years ago that indicated that chocolate melting in the mouth produces an increase in brain activity and heart rate that is more intense than the response associated with passionate kissing and you pretty much have proof of the pudding: chocolate is one hot ingredient. So how about combining the two – the kissing and the chocolate – by sharing a chocolate masterclass with a loved one?
SURREY: 'Choc Champ' Mark Tilling is resident chocolatier at Surrey's Squires Kitchen and winner of the UK Chocolate Master title for two years running. As such he is well versed to teach hardcore chocolate fans how to really impress via courses ranging from 1 to 5 days, priced between £125 – £675.  Students learn how to make truffles, cakes and desserts, chocolate skills such as tempering and moulding, and how to create edible flourishes such as chocolate flowers, cigarillos and fans culminating in what they promise to be a 'mini showpiece of professional standard'.
LONDON: Celebrated master patissier and presenter of TV's Baking Mad, Eric Lanlard presents A Chocolate Masterclass from the cookery school at his baking emporium Cake Boy, by the river in Battersea, South-West London, which gives the low-down on what makes chocolate sublime. Top-notch Valhrona chocolate is used to make puddings and cakes, which students take home with them. Full-day courses cost £250 per person, including a free apron and discount voucher for the shop, so you can further satisfy that sweet tooth.
MANCHESTER: With its deserved reputation, especially in the North, for 'chocolate expertise', the Manchester-based Slattery School of Excellence has a whole range of courses that cater for wannabe chocolatiers as well as those who simply adore the 'dark stuff'. Julie Oddie teaches the courses that cost just over £300 for 2 days and roughly half that for 1 day. Techniques include tempering, ganache-making and moulding, and the creation of window-display decorations such as flowers and even chocolate shoes are demystified.
LONDON: Learn from one of Britain's best, the award-winning chocolatier William Curley who teaches the art of 'bean to bar' from his Belgravia boutique in London on Saturday afternoons. Truffle and salt caramel courses will present the opportunity to get messy with the piping bag and there are plenty of tantalising treats to taste and take home. Courses cost £150 for the afternoon.
LONDON: At £230 for 7 hours, Chocolate Masterclasses start at the Little Portland Street Cookery School start in March just in time for Easter. Classes include bean tastings, key techniques, recipes and a chance to make an Easter egg. Everything will be taken home and may include mouth-watering creations such as Earl Grey truffles and hot chocolate with honey marshmallow.
Click here for more chocolate cookery courses in the UK