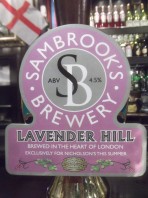 During the past five years London has seen a huge proliferation in the supply and demand of real ale. There are now over 40 breweries across the capital and leading UK restaurants are pairing beer, as well as wine, with their tasting menus.
Battersea based Sambrook's Brewery is celebrating this merry union alongside the re-launch of its honey-hued pale ale, Lavender Hill, with a competition to find London's most creative honey dish. The aim is to "…encourage chefs to cook with this undervalued ingredient".
When developing Lavender Hill, first launched last year at the Nicholson's UK Pub chain and available on limited release over the summer at select London pubs, Duncan Sambrook was struck by the scarce supply of the blossom honey he required. This brought Help Save Bees to his attention: a campaign working to protect Britain's bees and pollinators. With the extinction of 20 British bee species over the past 100 years presenting a significant risk to the human diet, Sambrook's is "…keen to support London beekeepers and honey producers where we can".
To kickstart the buzz around this re-launch, the brewery on Yelverton Road hosted a tutored-tasting. Highlights included the Fish Club's honey and dry-cured salmon blinis and Laura Amos's raspberry and honey Eton mess. Beer Sommelier Jo Miller added some interesting facts, such as, the Babylonians were the first people to brew beer and, fittingly, the first to use honey in the process. Mead was a feature of Babylonian weddings when it was lavished upon the groom by the father of the bride; the origin of the term, honeymoon.
We were encouraged, as with wine, to give the Lavender Hill a quick swirl to release the subtle, orange-blossom aroma. Paired with the canapés, this proved an intoxicating marriage of flavours. Miller further demonstrated her 'sommelier stripes' when she recommended enjoying a delightful Laura Amos creation – a chocolate mousse and honeycomb pudding – with Sambrook's revered ale, Junction. Sure enough, the bramble-fruit aromas of the ale paired perfectly with the smooth, rich chocolate.
For those looking to cook with ale, Miller is quick to point out its versatility, recommending a pale ale for salad dressings; something which struck me as genuinely inspired, perfect for the summer season, and the antithesis to the tired steak and ale combination found in pies.
Further details about the competition can be found online at www.sambrooksbrewery.co.uk; Duncan Sambrook will crown the winning chef Queen Bee and he or she will host a night of local food and beer at the Sambrook's Boadicea Brewery Bar.
Sambrook's offers open evening tours which include tutored tastings every third Wednesday of the month from 7pm or private tours can be arranged for any other time in the week subject to availability.
Contact: The Lavender Hill Job