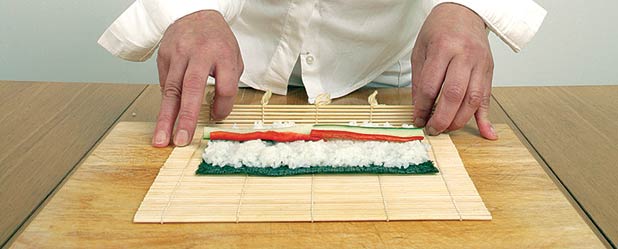 One of my milder regrets in life is that I didn't take a student job at Yo! Sushi. It would have been great to learn how to make sushi (and to have acquired a collection of Yo!'s coloured mini plates). The neat cuts, the concentric fillings, the arranging of ingredients would have been satisfying in a way that many other menial student jobs in catering just weren't.
To learn the basics I went along to the Japan Centre Sushi Academy's outpost at the Great Eastern Food Market at Westfield Stratford City, East London. For me the new shopping centre was like a crowded airport departures area that could have been anywhere on the planet. The class took place on a floating demo kitchen in the middle of the foodie wing. The sort of outpost where you might sign up for RAC membership. Curious shoppers stopped by to look over our shoulders and cast an eye over our work while cold gusts of air occasionally whipped our legs from the two nearby exits.
The class was simply structured. Kim, the sushi master, dressed in full kimono, whose padded tummy looked ideal protection from her sharp knife, demonstrated the basics. She used roast seaweed sheets, proper Japanese sushi rice that was washed several times and aired and run through with rice vinegar before she scooped up a handful and spread it evenly across the seaweed. It was then a case of choosing a filling – cucumber, avocado, crab sticks, smoked eel, cod's roe, cress – and rolling the food in the sushi mat. The result was left to rest before cutting.
Kim was softly spoken so it wasn't always possible to hear her at the end of the demo stand against the giant shopping mall's echoes and background music but it was easy enough to follow her actions. For the next hour or so we created our own versions of hosomaki sushi, fuelled by green tea and sake, while Kim and her co-worker hovered and made emergency repairs to torn seaweed and my overstuffed rolls.
The whole brief experience confirmed to me that I would probably have enjoyed a  student job at Yo! Sushi. It was fun and engaging in the way that a craft-making session is. And although there were no seats and it would have been good to try one more variety such as ice cream cone shaped temaki we soon almost forgot about being in the middle of a shopping centre food market. Having chopped the sushi rolls, including a clever inside-out one with sesame studded rice on the outside and filled a bento box to take home, Kim gave us a quick tour of the nearby Umai outlet, which sells specialist Japanese foods and that was it – a wrap.
JC Sushi Academy's Let's Get Rolling sushi workshops cost £40 for 90 minutes and there is a maximum of eight students per class.
Sushi chains such as Yo! Sushi and Feng Sushi offer sushi and sashimi making classes as does Reiko at Hashi Cookery from her home in Wimbledon.
Check here to find sushi making classes at a cookery school near you.
Contact: The art of making sushi