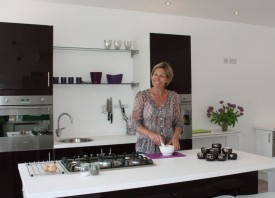 Basic ingredients: Run by former caterer to rock stars Sarah Muir (pictured, right)  it's a family affair based in a smartly converted barn at Grinkle Park Farm in the North Yorks Moors National Park. Daily day courses range from Speedy Suppers and Divine Dinners to Easy Fish and Mr and Mrs Cooks and make the most of local produce from game to seafood.
They say: Mum grows all the vegetables and herbs we use in the cookery school. And we have free days every week on our course calendar for you to create a course unique to you.
We say: Sarah runs an upbeat school in an attractive setting that offers a creative mix of global and local cuisines. Stay overnight at a lovely cottage on the farm.