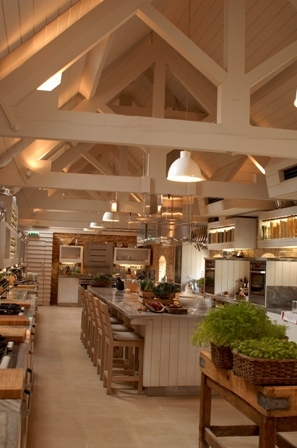 What do most people want to learn when they enrol on a course at cookery school? A novice may want to master the basics so they can return home to rustle up a few basic dishes. While a more experienced cook, could be looking to hone their technique in one particularly tricky skill. Either way, part of any cook's education should include an understanding of the materials with which they're working – where they've come from, how they've been produced and their footprint on our planet.
That's why we were so keen to partner with Looking to Cook on the first ever Sustainable Cookery School Award. All of the numerous cookery schools that entered the award demonstrated an exceptional level of sustainable sourcing – using local, seasonal, high welfare produce. None more so than the winning school, Daylesford. And, while the Gloucestershire cookery school did excel when it came to sourcing – students always get to cook with organic meat, poultry, cheese and eggs – it also proved a worthy winner because of its all round sustainability. In the other two main areas of sustainability on which all the schools were judged, Society and Environment, Daylesford proved its credentials, using solar energy and supporting a number of local charities among a host of initiatives. Students also get to learn about the provenance of the produce they cook as well as the health and nutritional content of the finished product.
Pushing Daylesford very hard for the top prize was River Cottage. There was little to choose between them, particularly when it came to the ingredients they used and how they shared information about their provenance with their students. River Cottage Cookery School's involvement in an initiative to improve the quality of food in care homes helped contribute to its very high score, as did its Urban Garden scheme – showing pupils how to grow your own even in even the tiniest of spaces like a window sill.
The second runner-up was Cookery School which, despite its London home, still manages to give students lots of lovely local produce to work with, including honey from Regent's Park. There's also a strong emphasis on healthy eating at Cookery School, with pupils given the chance to learn about healthier cooking methods and find out about catering for special dietary requirements.
Daylesford's prize for winning the award is a year's free membership of the SRA, while the two runners-up are both entitled to a complimentary six months.
Contact: Daylesford wins first sustainable cookery school award