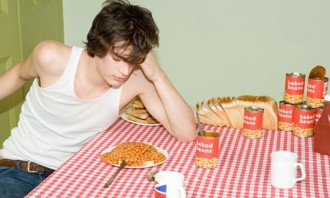 The stereotypical picture of a British student eating cold baked beans straight from the tin and spreading sachets of ketchup on toast is surely a thing of the past in light of the food savvy times we live in. As a nascent nation of foodies, we want fine dining  by way of good quality ingredients and all from the comfort of our own homes. But what are the options for students as they head off to university? Well, they should beg, borrow or steal ideas, tips, recipes and cookery books from friends, neighbours and family. Alternatively, the following cookery schools offer 'Student Survival' courses, where you can learn how to do more with good ingredients but for less money. Courses generally run from a few days to a week and although not always cheap they could be a wise investment in the long run.
 The superb Blackheath Cooks in London excels at teaching younger generations the art of haute cuisine. With their Student Kitchen S.O.S they promise to give 16-20 year olds "skills and confidence to last a lifetime." For just £250, the three-day course focuses on nutrition, budgeting, food shopping, knife skills, food safety, quick cooking for one and feasts for friends.  At the end, you even get to take home your very own chef's knife.
The Cook Academy in Hampshire provides an extensive five-day course for Student Survival that covers many of the basics  from knife skills to slow cooking as well as fancier flourishes such as bread-making, meringues and pastry. Typical student fare is generally eschewed in favour of dishes such as coq au vin, Morrocan  lamb tagines and Swiss meringues with raspberry coulis. At £400, this could set you up for the next three years.
The Yorkshire Wolds Cookery School is a new gastro academy with a difference – it's based on a working pig farm. Freshers on its two-day Savvy Student Survival course (£150) will learn how to make healthy but inexpensive food, such as baked eggs and spinach for breakfast graduating to a Thai chicken curry and caramel mousse for dinner. Students receive a Survival Kit of useful goodies as well as a folder of recipes. The accommodation at the cookery school is basic but modern, and all rooms have impressive views of the farm and surrounding countryside.
With the emphasis on looking after the pennies, the Edinburgh New Town Cookery School's Getting Ready for University course helps students do just that by teaching them how to use cheaper cuts of meat, shop for ingredients on a budget and utilise basic cooking techniques that will save them time in the kitchen. After five full days, at £600, students will leave "with an apron, a folder of easy, cheap but nutritious recipes and an enthusiasm for cooking!"
The excellent Pudding Pie Cookery School runs very hands-on courses in various locations around the UK, teaching basic cookery techniques to students that give them the ability to sweat less in the kitchen and more over their studies. The tutors are even contactable post course, in case of a culinary emergency, and students will continue to receive monthly recipes to keep them on track. Depending on prior knowledge and/or budget, the Off to University course can be a one-off session (£125) or four sessions (£445).
Cambridge Cookery School's five-day Cook Course for Life costs around £500 and provides students with everything needed to cook healthy delicious food as well as the vital ingredients for a fulfilling time at Uni, promising to build confidence, encourage teamwork and have lots of fun. The course focuses on a different food group each day such as meat, fish or vegetables. All meals are provided during the course and, perhaps in preparation for those late-night parties in halls, residential packages are available which offer shared rooms.
Eat well on a budget and use the leftover money to reward yourself at the pub is the ethos of the Student Survival course at The Culinary Cottage in Abergavenny, South Wales.  Students preparing to further their culinary education will be taught how best to stock the food cupboard and the trick of giving cheaper ingredients that wow factor through heightening the sensory elements of food. This is a five-day residential course that costs £750 all inclusive.
The Avenue Cookery School's Really Useful Course is mainly about "excellent healthy cooking for life" but also teaches gap year and university students other life skills such as first aid, basic car maintenance and the 'really useful' art of sewing on a button.  Based in Putney, £620 gets the student an intensive five-day course, complete with bound cookery book and, for an extra £40, 'Really Useful Pack', "designed to take you anywhere: university, cooking jobs, badly equipped flats." What more could you need?
By Tristan Plowman