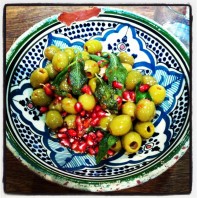 Walking through the entrance of Food at 52 cookery school on one of the last warm evenings of the year, the earthy colours of the room and the soft Spanish music transported us to a hacienda in the middle of London's Clerkenwell.
I expect many people don't know how versatile olives are and limit their use to topping pizzas and pasta sauces so it was an unexpected surprise to find out they can be deep-fried or even used to make chocolate truffles.
Starting on more familiar ground our teachers, John Benbow and Omar Allibhoy, demonstrated three marinades for olives. Each one took minutes to make and the result could be used as an entrée or simply refrigerated to eat as and when. My favourite was the pomegranate, harissa paste and sage marinade which made the olives glisten beside the cerise fruit seeds.
Next we learned how to make the unusual yet addictive deep-fried olives. The stuffed queen olives were dipped in egg, flour and breadcrumbs before being deep-fried. We drizzled honey over the top of the finished product to create a warm, salty and sweet snack – neither quite a starter, nor a dessert. It might sound bizarre, but it worked.
Omar, having grown up in Spain, knew plenty about cooking with olives and he shared cooking tricks throughout the evening. For example, if a garlic clove has a green stalk in the middle, remove it as that is the acrid part which will make your breath smell if eaten. He also taught us to roll the lemon on the counter before zesting it to release the aroma and activate the enzymes.
Before cooking with the olives we rinsed them to remove the salty brine and let their natural flavours emerge.   This was especially important for when we cooked the sea bass as it prevented the olives from overpowering the flavour of the fish. To cook the fish, rather than frying on both sides for equal time we learned to fry it skin-side down until the flesh is no longer translucent and then flip it for a few seconds to finish. This helped to keep the flesh succulent and the skin crispy.
To end the class we made chocolate olive truffles with dark chocolate, double cream and black olive paste. The olive paste gave the truffles a grainy texture and helped to intensify the rich taste of the chocolate – these were absolutely delicious and made a perfect partner for the espresso we were served to finish.
By the end of the course I felt like a stuffed olive! The recipes we learned will add a little Spanish sunshine to my kitchen through the cold months ahead.
Contact: Spanish olives masterclass at Food at 52 cookery school