Rolling pins and cleavers at the ready, as we list a few of our recent bread and butchery class discoveries. Have you been to any of them? Tell us about your experience – the good, the floury and the bloody – in the comments box below.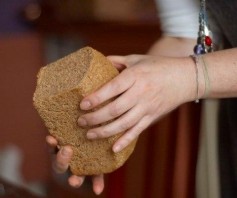 Virtuous Bread, Nationwide,
Online tribute to all things bread founded by Jane Mason. Since 2010, Virtuous Bread has been showing the world how to buy, make and even sell the stuff. They host courses across the UK with the basic bread course priced at just £60 for 4 hours. Their 'Bread Angels' can also help you set up a home baking business.
Maynards Farm Cookery Courses, Shrewsbury
Nominated as a Rick Stein Food Hero, Rob Cunningham runs hands-on butchery and curing workshops directly from his farm which has only outdoor-reared pigs. The Pork and Butchery Curing course is £90 and they even host artisan bread-making courses.
Sunnyside Farm, Scotland
From their small-scale farm in the Dumfriesshire hills, the Smith family host practical pig butchery courses which not only promise you can "try it all!" but have an afternoon session devoted to sausage-making. The course is £100 per person, runs from 9.30am – 4pm and includes lunch.
Piazza by Anthony, Leeds
Learn to bake a variety of breads with Indian, Italian and Flavoured Bread courses run from this family-owned bakery school in Leeds' historic landmark building, The Corn Exchange. All courses cost £95, are from 10am – 4pm and include breakfast and a light lunch.
The Breadwinner Bakery School, Edinburgh
Opened in 2007 by master baker Sean McVey, this school aspires to teach the preparation of healthy, quality bread, free from chemicals and additives. The two-hour classes are tailored to individual requirements and generally involve one-on-one tuition. Everything you bake, you take.
Godfreys Butchery School, London
Run from their century-old Highbury shop in North London, these master butchers promise "an experience in Meat Perfection" in just 2 hours during which they will demonstrate basic butchery skills, including boning, dividing whole chicken and pigs into cuts and sausage-making. Students will get to taste along the way and learn how to identify the best cuts of meat.
Click on the links for more butchery courses and more breadmaking courses.