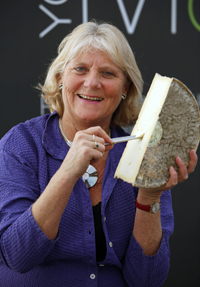 Another half dozen cookery schools that we've discovered for you here at Looking to Cook, from butchery in Sheffield to chocolate specialists in Brighton. Have you been to any of them? Tell us about your experience in the comments box below.
Big scale and bespoke cheese events and workshops in an Oxfordshire village by dairy queen Juliet Harbutt (pictured, right).
A tasty menu of meaty weekend cookery courses at this hugely inventive and multi-platform gastropub in Sheffield.
Cookery courses down at Abbey Home Farm in Cirencester include good value cheese making courses and more, from Mexican to Macrobiotics.
Blueberries Junior Cooking Company

Blueberries Junior Cooking Company offers classes for budding young chefs in Nottinghamshire.
Chocolate cookery parties, cocktail and cupcakes classes, cookies, sugarcraft and cake decorating workshops in London and Brighton.
Home cook and gelato guru Ben Vear runs these occasional ice cream and sorbet making courses at Winstones Ice Cream factory in the Cotswolds.