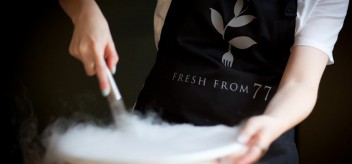 Here is a bunch of cookery schools that we've stumbled upon in the course of our duties at Looking to Cook but haven't had a chance to properly check out yet. We think they look rather interesting. And as such they're on our radar.
Have you been to any of them? tell us about your experience in the comments box below.
A Hampshire based catering company that runs its own one-to-one mobile cookery school. If the food's as good as the website's pictures then this business knows how to deliver.
Gain confidence in the kitchen and learn to cook to a budget on of these culinary retreats in a smart barn in Herefordshire on the Welsh Borders.
A personalised cookery teaching service in a country cottage in Hampshire with a great looking 'shop-front' website.
Vegetarian catering specialists who run popular vegan and raw food workshops in Camden, North London.
From sausages to bread making, simple, fun and affordable cookery classes in the Devon countryside.
We love this culinary outfit located in Swansea for its name and retro-styled website. It also offers bespoke cookery lessons at the Monkey Cafe or in the comfort of your home.