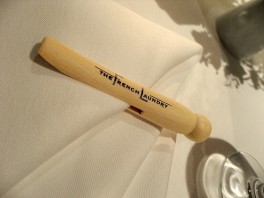 Thomas Keller certainly brought the Californian sunshine with him to London for the opening weekend of his 10-day pop-up and just about everything else except real bricks and mortar. Still, you wouldn't have known it was sunny outside inside the windowless Georgian restaurant on the fourth-floor of Harrods where the renowned chef has been running a temporary version of his three-Michelin starred restaurant in Yountville, California.
Beyond the mock façade of the French Laundry complete with artificial lawn and stacks of real pumpkins the setting and décor within – ruched white drapes and walls broken by beautiful bouquets of flowers and dual lamps stamped with laundry tag insignia – is just the right side of upmarket outdoor marquee catering.
We started with champagne (Moet, though I later found out there was a Ridgeview Knightsbridge sparkling white from Sussex in the Harrods cellar) and a few toy-like canapés – warm Gruyere brioche, a weeny toasted sandwich and the signature salmon cornetto, a delicate and slightly sweet sesame seed studded tuile filled with creme fraiche and topped with smoked salmon served in a Keller designed brass holder (heavy to hold and layered rings – all very Art Deco).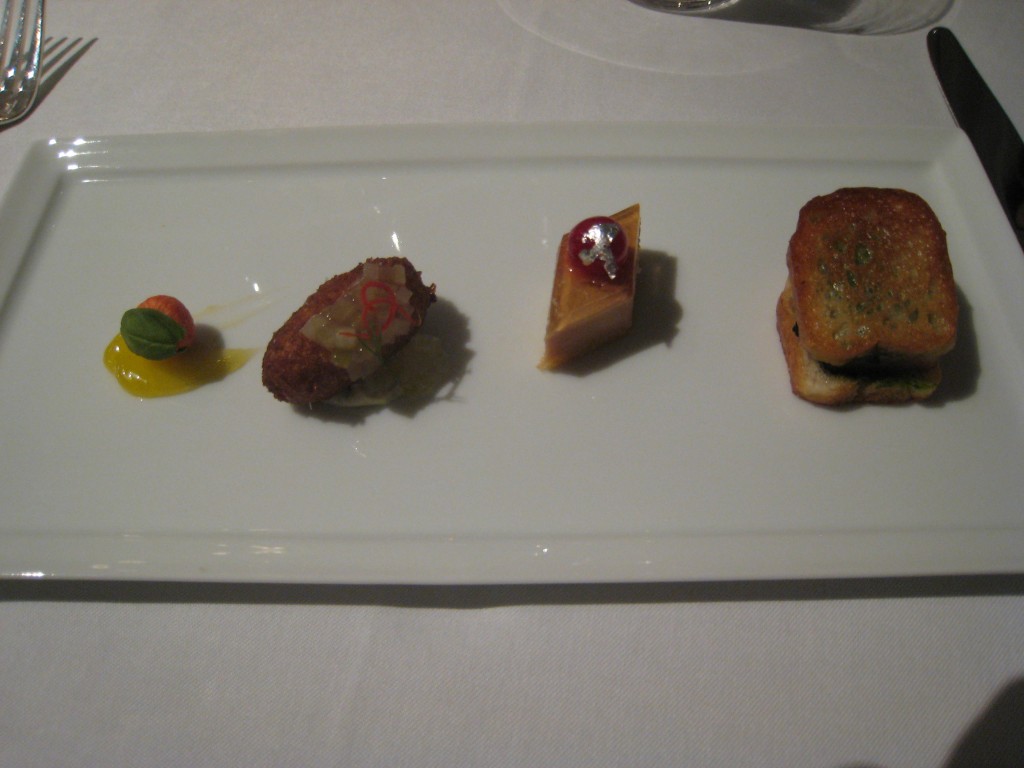 It was the start of a run of bumper, indulgent flavours and that horrible word mouthfeel – all creamy meat and the fume of truffles. This phase of our 12-course meal ended with a tongue-like, tan coloured sea urchin on a spoonful of fragrant apple granita served in an inverted glass bowl.
Aesthetically, the poached lobster and Moulard duck dishes were works of art. The smears of beetroot left on the plate after the dish had been consumed even looked good. In true marathon-style we seemed to hit a wall about now, which was daunting given that there were still four courses to go. But the beef was seared rare and flecked in sea salt and somehow kick started the appetite back in to gear.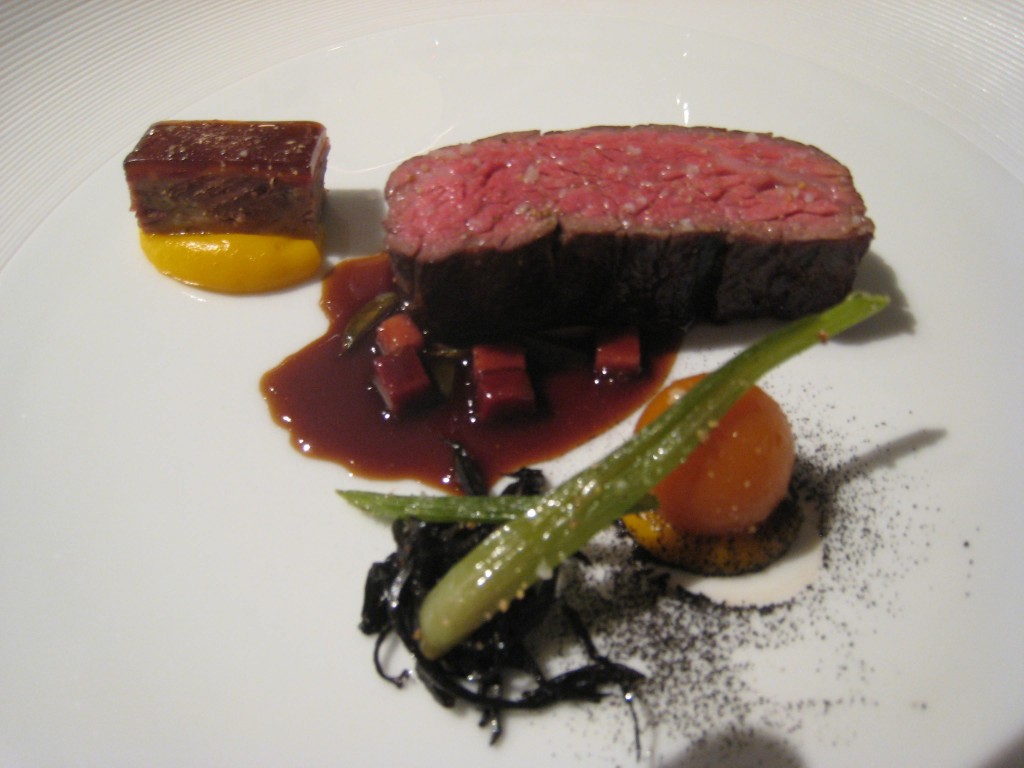 Chef Keller was having fun with desserts and definitely wearing his stars and stripes. Huckleberry sorbet (a blueberry and raspberry hybrid from the FL kitchen garden) was tangy, sweet and refreshing. S'Mores was a chocolate pleasure with peanut butter pave, Tahitian vanilla marshmallow and popcorn sherbet and there were cinema kiosk favourites such as Coca-Cola jelly and a root beer truffle (thankfully the chocolately kind) served with coffee.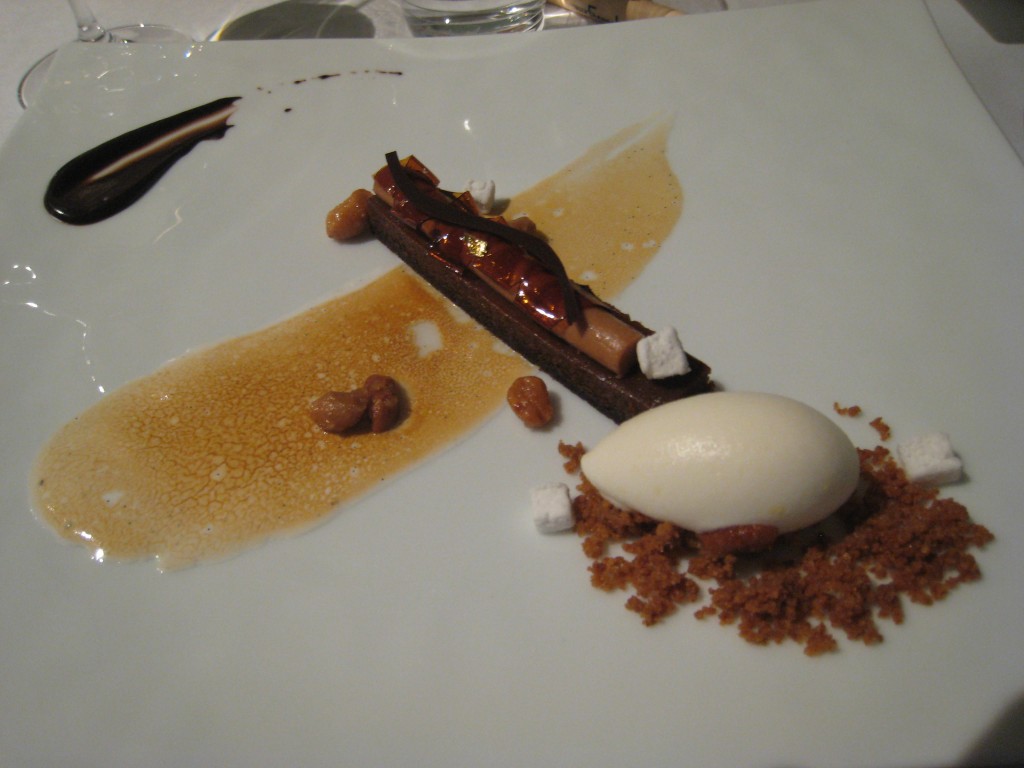 It was a nine-course affair (plus some extra plates pushed our way), all served on Keller's own brand of dinner ware, stacked three plates high for some dishes. There's no doubt that it's been a military operation, in planning since April. Each table had a booklet listing and thanking suppliers – Oscar-acceptance speech style. After all, some of them had gone to great efforts – take, for example, the Russian literature professor who supplied the lobsters from Maine. She personally accompanied the crustaceans to the UK.
Keller has huge respect for his chain of suppliers: "Cooking is never as hard as farming," he told me. "We don't have the committment of many of the producers who rise early every day." That may be the case but Keller's committment to culinary excellence is hard to doubt based on this performance.
Contact: Review of the French Laundry at Harrods