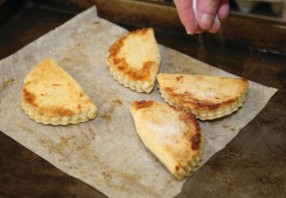 Basic Ingredients: There is plenty of shared catering expertise on offer from the four chefs who run the well-facilitated Preston Cookery School. In an industrial-style restaurant-like kitchen they teach courses such as A Taste of Lancashire and A French Day Out or speciality courses from Continental Bread Making to Fish and Seafood. Courses combine a good balance of demonstration and hands-on participation, and at £85 for a seven-hour day this is one cookery school you can definitely afford to pay a visit.
They say: Our courses are designed to be exciting, relevant and fun. Whether you are looking to sharpen up your cooking skills, learn something completely new or you want to cook simply for pleasure – we're confident the Preston Cookery School can feed your passion!
We say: Attention to detail is spot on at this school with a dedicated patisserie chef on hand to teach the attendant Pastry to Perfection course. Ideal for those looking to  brush up on the trickiest of culinary techniques.