Pancake Day has finally arrived and we can indulge our sweet tooth for breakfast, lunch and dinner, no questions asked.  To celebrate this unashamed fest, we asked cookery schools to show us their spirit in a pancake, either sweet, savoury or a combination of both (maple-bacon anyone?).
We are pleased to announce that the winner has overridden a deep-set sugar addiction by creating a savoury pancake so tempting that its sweeter sister might well be overlooked.
Tideswell School of Food has put their own spin on a classic with  Spinach, Prosciutto and Ricotta pancakes with a Tomato Ragout.  As part of their social aims, the school always promotes and supports the growing and making of local produce. Using the freshest ingredients from their kitchen garden, which is run by volunteers, these pancakes take inspiration from many cultures and techniques, representing the variety of courses and expertise on offer at Tideswell.
Classes offer something for everyone, from a 'Pig in a Day' butchery course to Thai cooking and patisserie.  To check out the class schedule and to learn more about their cookery ethos, please visit their website www.tideswellschooloffood.co.uk .
The winner:
Spinach, Prosciutto & Ricotta Pancakes with Tomato Ragout
By Tideswell School of Food
Serves 2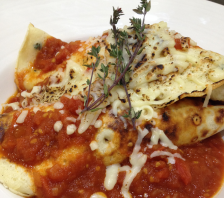 Pancakes (Makes 4)
55g plain flour
10g butter, melted
1 large free range egg, beaten
125ml milk
2 pinches salt
1 pinch sugar
1 sprig fresh thyme, leaves removed
1 tbsp. light olive oil for frying
Tomato Ragout
1 tbsp. olive oil
1 banana shallot
1 clove garlic
50ml red wine
1 tin chopped plum tomatoes
8 cherry tomatoes, halved
1 tsp. Tomato purée
1 tsp. Balsamic vinegar
1 heaped tsp. Demerara sugar
¾ tsp. Salt
Freshly milled black pepper to taste.
4 basil leaves.
Filling for the pancakes.
70g cooked and drained spinach, chopped.
150g ricotta cheese
5 grates fresh whole nutmeg
1 tbsp. grated fresh Parmesan or similar hard cheese
salt and black pepper to taste
4 slices Prosciutto
Butter to grease a baking dish
Grated Parmesan cheese to scatter on top of the assembled dish
Method
First make the pancake batter, mix the flour, salt and sugar together in a bowl, add the egg and mix together until you get a thick batter.  Now add the milk in stages whisking well between each addition to ensure a smooth batter, it should be the consistency of single cream.  Finally whisk in the butter.  Leave the batter to rest while you prepare the sauce.
To make the sauce
 Heat the oil in a small saucepan.  Finally chop the shallot and garlic and add to the oil.  Cook the shallot and garlic until soft and sweet but no colour.  Add the tomato purée and cook for 2-3 minutes stirring regularly.
Add the red wine and turn the heat up to boil away the alcohol.  After a minute or two add the tinned chopped tomatoes and halved cherry tomatoes, bring to the boil, reduce the heat and simmer for 10 minutes or until the sauce has thickened nicely.  Stir in the balsamic, sugar, salt and pepper and check for seasoning, adjust as necessary.
To make the filling
 Mix all the ingredients for the ricotta filling together except the prosciutto.  Taste and season accordingly.
To cook the Pancakes
 In a large (24cm) non stick frying pan, heat the oil until hot and then pour it into a small bowl leaving an oil residue over the pan.
Stir the pancake batter and pour 1 quarter of the batter into the pan and swirl so that it covers the base of the pan, the pancake should be nice and thin.
Place the frying pan back on the heat and cook the pancake until the top surface is cooked through and the bottom is golden.  Carefully flip the pancake over and cook for another minute or two until golden, place to one side and repeat with the rest of the batter.
To assemble the dish
Lightly grease a 30cm baking dish.  Take one pancake and lay a piece of prosciutto down the centre.  Spoon one quarter of the ricotta filling down the piece of prosciutto.  Roll up the pancake and place in the dish.  Repeat for the rest of the pancakes and filling.  Spoon the sauce over the pancakes and sprinkle over the cheese.  The pancakes can now be chilled until needed.
To cook the pancakes, preheat an oven to 220c gas 7.  Bake the pancakes for 20-30 minutes or until the cheese is golden and melted and the sauce is bubbling.
Serve the stuffed pancakes with a crisp green salad dressed with balsamic and olive oil.
Runners-up
Cambridge Cookery School took a close joint second-place with Demuth's Vegetarian Cookery School.
'Brunch Fritters' by Cambridge Cookery School
These little pancakes offer a bright green and super healthy addition to the brunch plate and taste even better than they look. Serve them with pan fired halloumi for a light bite and with rashers of bacon and a very runny poached egg.
Ingredients
500g broad beans, podded and shelled
250g green peas
2 eggs
Chopped chives
75g self raising flour
1 teaspoon curry powder
1 tablespoon chopped spring onion
1/2 teaspoon finely chopped mild green chillies
Sea salt and freshly ground black pepper
Sunflower oil for frying
Coarsely mix beans and peas in food processor.
Lightly beat the eggs using a fork so as not too over beat.
Add beans and peas, chopped chives, spring onion, chilli, curry powder, salt, pepper and self raising flour. Shape into patties. Pan fry in sunflower oil.
Serve with pan fried halloumi for a vegetarian option, or with crispy, smoked bacon rashers and a poached egg – egg on egg but who minds for brunch?!
Vegan Canadian Pancakes by Demuth's Vegetarian Cookery School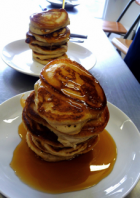 Ingredients
Makes 12 pancakes
 200g plain white flour
 ½ tsp salt
1 tsp baking powder
½ tsp bicarbonate soda
75g plain vegan yoghurt
2 tbsp maple syrup
200ml soya milk
2 tbsps sunflower oil
Method
Mix together the plain flour with the salt, baking powder and bicarbonate of soda.  Mix together the plain yoghurt, maple syrup and soya milk and pour this into the flour, whisking well until you have a smooth thick batter.
To cook the pancakes, heat a drop of sunflower oil in a frying pan, swirl the oil around to cover the whole frying pan.
Drop 2 tablespoons of pancake batter into four places in the frying pan, and over a medium heat cook until the under side of the pancake is golden, and bubbles have appeared throughout. (about 30 seconds)
Loosen the pancakes by shaking the pan and then flick each pancake over and cook for a further 20 seconds.
Continue until you have finished the mix. 
Tips: Try replacing half the plain white flour with alternative flours.  Our favourite is buckwheat flour, also wholemeal or spelt works well.  For a crunchy crispier texture try rice flour or fine cornmeal.
Contact: Pancake Day recipe competition winners