I paid my neighbour to cook me dinner on Saturday night – three courses delivered at about 8pm, the peak slot in any restaurant's week. It was the first really bitter cold weekend of the winter and there was a double bill of the Killing on TV. I wasn't ill, but staying in seemed sensible.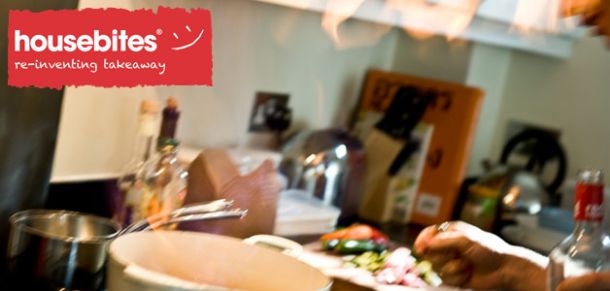 We had rosemary chicken with Mediterranean vegetables, all neatly striped from the griddle pan and served with a kicking tsatziki. For a starter we ate chicken and vegetable soup, a liquid version of our main, granted, but it was nicely hot and densely packed with fresh vegetables and plenty of chicken, though a bit heavy on the dried herbs. There was garlic bread, an acceptable tomato and mozzarella salad and an ultra creamy and rather tasty frozen white chocolate and strawberry dessert with a thin (slightly lost) biscuit base. Dinner was all home-made and cost £34.50. Add £8 for a bottle of pinot noir, picked up from the local off licence, and the total came to just above £40, the cost of a cheap restaurant for two.
Housebites.com is a smart start-up. It's a natural 'takeaway' extension of the supper club phenomenon and a slick version of social cooking sites such as France's Super Marmite. Basically, users enter their postcode online to find out what local chefs and home cooks are cooking on each day of the week. They can then choose a meal, pay for it, sit back and wait for delivery at the chosen time.
It's the sort of idea that captures the imagination of lots of people but elicits numerous questions. Has the chef's kitchen been health checked? (Yes.) Are they any good? (There's a lot of talented home cooks out there and chefs doing a bit extra on the side; from the short profile online, we already know more about the cooks than we do about most chefs who cook for us in restaurants.) Who delivers it? (A delivery person, in my case a friend of the chef.) What happens if it's no good? (Well, you can write a review about it on the website; user-generated feedback informs chefs about which of their dishes work and what customers would like to see more or less of.)
It was a satisfying experience and the sort of service that will gain momentum as users grow to trust it. A good idea is to try a number of local chefs and find one that suits. Sylwia (yes, with a 'w'), a nutrition student who cooked my dinner, must be a highly organised person to know in advance that she's staying in on Saturday night to cook for potential customers. But good luck to her.
Yes, it's probably a bit more expensive than a curry or pizza takeaway but then it's a small-scale home-made product. It was certainly a more wholesome meal than your average takeaway. At least when I ordered choice was a bit limited to chicken dishes but then it's not a restaurant. Portion sizes were more than adequate – I had enough leftover vegetables and tsatziki for lunch the next day, though some roasted new potatoes might have complemented the main nicely.
It's currently available mainly in North London and is being rolled out across middle-class postcodes in the South of the city. It will get really interesting and 'social' when people start eating together at each others houses.
For more information: www.housebites.com
Contact: Love thy neighbour's food