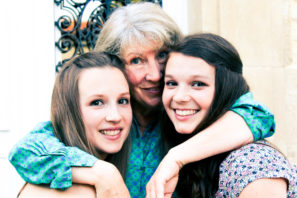 This week in our series which allows cookery school teachers to share years of culinary experience we meet course director and tutor Midge Shirley who, despite living half the year in France, bangs her tureen for Lancashire hotpot, British cheese and good pub grub.
First food memory?
Sitting on a stool in the kitchen waiting for my mother to open the
oven door. It was Sunday lunch and it was my turn to have a sample
of the meat before it went to the table. It was beef, a sliver of meat
was sliced, a small piece of bread dipped into the roasting fat, then
when cool enough to eat popped into my five-year-old mouth. Delicious.
First cookery skills?
Making mint creams for the Brownies' bring-and-buy stall. I think
most were eaten before they arrived at the church hall.
Favourite ingredients?
I couldn't live without salt. I remember reading an article
about a Michelin-starred restaurant that employed a trainee to stand
at the door leading into the restaurant and grind a little salt on the
dishes as they left the kitchen. It's amazing the difference it can make
between bland and fabulous. Just don't over season when cooking.
I'm also a great lover of all fresh herbs. You don't need a large garden,
you can grow lots on a windowsill. Then you can add flavour, texture
and aroma to dishes that can take the ordinary to the
extraordinary.
Recipes or improvise?
Both, but I have to make sure that all my recipes are foolproof. Teaching
teenagers means that what might be complicated has to be simplified and
what could be classified as boring is fun and the means to good food.
Most underrated dish
Lancashire hotpot – when layered well with floury potatoes at the bottom,
so they melt into the cooking liquid to thicken the gravy, combined with best end of
neck of lamb, onions and carrots, leeks and celery and topped with a firmer type of potatoes
that crisp and brown. I am not a purist and add rosemary, garlic and a few
other vegetables. I think the Lancashire mill workers would have done the same
if those ingredients had been available to them – it's the equivalent of a foodie hug.
Indispensable kitchen gadget or utensil?
My food processor. Every task I throw at it, it performs in seconds: mixing, slicing,
chopping or grating. There's barely a day goes by that I don't use it.
After writing this I will grate raw beetroot, carrots and courgettes tossed with
yogurt and lemon juice, seasoned with salt and pepper and maybe a little sumac,
and serve with a piece of grilled fish. Easy, tasty and, dare I say it, healthy.
Eat at home or eat out?
Both, when possible. We are lucky in being able to spend our time between France and the UK. We eat out more in the UK because of teaching and visitors in France.
Plus we have a dog who hates being left on her own and as there are good pubs with good food we tend to make the most of them while in Britain. I would like to aim to eat out
once a week; but it doesn't always work that way. Cooking is rarely a chore and my  amily are always appreciative, so it's home cooking for us the majority of the time.
What's Britain's best-kept food secret?
Cheese. The variety in the last decade or so has increased, local cheeses abound and the quality is superb. But you would be hard pressed to find anything other than Cheddar the other side of the channel.
Unfortunately the Cheddar on offer is of the plastic, bouncy kind.
What are the key ingredients for a successful cookery class?
Planning, organisation, organisation, organisation. Teaching teenagers means they need
a firm structure that they can follow and enjoy. At Teen Cooks they cook three courses. The starter
becomes lunch, and the main and pudding the evening meal. The course is residential so
having done most of the preparation and cooking in the morning (if we haven't been to the
market) they will then come back to the kitchen early evening to assemble and finish off
anything that is necessary for the evening meal. I am always delighted by how competent
and good young people are. They just need to be given the opportunity.
Click here for more details on Teen Cooks summer cookery courses
Contact: Kitchen Confidential: Midge Shirley, Teen Cooks summer cookery school