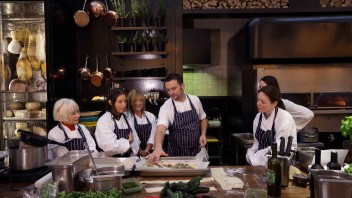 Russian restaurant baron, Arkady Novikov's eponymous UK restaurant seems an unusual destination for Italian cookery but this is where I found myself, on Mayfair's Berkeley Street, for a five-hour master class heralding the flavours of springtime.
Novikov's unassuming facade proves a red herring. Entering the restaurant is a dizzying experience, which involves wandering through a Pan-Asian dining room and swanky cocktail lounge before reaching the Italian restaurant, which is ostentatious bacchanalia to a 'Vegas' degree.  Renaissance-style decor surrounds a vast 'library of wine', tables are scattered with mammoth piles of fruit and veg and wall-length fridges house meat that dangles above monster truckles of cheese.
The class started at 10am with introductions from the all-Italian staff and a typical Italian breakfast of apricot crostata, Nutella cornetti and frothy cappuccino. Sicilian head chef/tutor, Carmelo Carnevale then ran through the class menu of nine dishes: a seasonal celebration of north and south, showcasing spring lamb, asparagus, broad beans and sweet chards, at which point I felt reassured. This would not be a faux-Italian experience.
To kick off proceedings, we were put into three groups, each with a chef for guidance and three dishes to prepare. I was here to learn, and puddings are not my forte, so I opted for the station responsible for dessert: a panna cotta with raspberries.  The other dishes were starters – roasted pepper rolls with goats cheese and gratinated asparagus with eggs and Parmesan.
Impressively, we had the option to switch stations to gain a broader scope of the overall tuition. Instead, everyone remained loyal to their chosen chef but there was still plenty of opportunity for groups to exchange ideas, tips and surreptitious morsels of food.
Michele, our tutor, and the only chef to hail from the north of Italy, helpfully contextualised this to my group as a mini three-course dinner party meal, encouraging us to think about preparing the dishes to arrive in unison.
First of all, we roasted giant bell-peppers, the thicker skins providing relative resilience towards the blistering heat of the wood-fired oven. Michele advised we tightly foil-wrap the peppers, to lock in heat and flavour, and that cooking for just twenty minutes at 200C ensures optimum taste and texture.
The panna cotta was next as it would need time to set. With the cauldron of milk and cream simmering away quietly, zesting of citrus, scraping of vanilla pods, and bathing of gelatine sheets brought about the final mixture, which was strained to ensure a smooth texture. Next we filled the panna cotta moulds. A useful tip was to do this halfway then top up with remaining mixture, which ensures even portions and avoids the all-too-familiar pudding envy.  We were informed that both zest and cream could be reacquainted at this point, if a more textured pud is preferred.
Another example of the Italian 'waste not, want not' principle was demonstrated when a delicious vinaigrette was conjured from the reservoir of pepper juice. This was used to dress the resultant dish, an anchovy and caper-flecked goats cheese cream, encased in rolls of the roasted pepper.
Meanwhile, our neighbouring group prepared legs of spring lamb with garlic, rosemary, lemon and Tuscan olive oil. The latter is a perfect accompaniment to rich red meat, according to Carmelo, who had set about in preparation of the class finale: a classic pea and mint risotto. Chopping the herbs with an expert hand, Carmelo boasted that it had been two years since cutting himself,  but with fate foolishly tempted, a crimson trickle ran down his finger; a two-year sabbatical sabotaged by his Sabatier.
However, this didn't prove a bad omen. The class culminated in nine delicious dishes of fresh Italian cuisine and a most welcome wine-pairing courtesy of sommelier, Stefano.  By the end, appetites were fully assuaged – no mean feat with an exhausting five hours of hands-on cookery under our bulging belts.
From start to finish, the experience had been a true Italian celebration of fresh, seasonal food, with a convivial vibe enabled by the chefs, who were quick to encourage fun and frivolity. There were some very handy culinary tips to boot, meaning we came away with more than just full stomachs.
These classes are generally held on the last Saturday of each month and are superb value at £75 for a five-hour class that includes breakfast, hands-on cookery, wine-pairing and a fabulous feast to finish.
For further details of future classes follow this link: http://www.novikovrestaurant.co.uk/masterclass-details/
To book a class email: alignini@novikovrestaurant.co.uk
Contact: Italian Cookery puts a Spring in your step