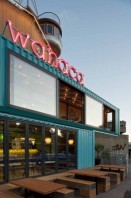 Wahaca's Southbank Experiment, a restaurant built from eight recycled shipping containers stacked up like so much 'Brobdingnagian' Lego and decked out with Tristan Manco's Mexican street-art, provides the chain with a platform to showcase more 'out there' offerings, with a view to creating new menu stalwarts. But, Jiminy cricket, insects?!
The horsemeat scandal canters on, providing a rude awakening for Brits regarding what's really in their ready-meals. After initial horror, the horse has been championed, by some, as a lean, healthy source of protein – but there is a sustainable alternative which contains almost as much protein as lean beef, and three times the amount of calcium to boot.
You guessed it – insects are the answer. My rather squeamish dining companion seems to disagree, but he's in the minority – around the world, insect consumption, or 'entomophagy', prevails in 80 per cent of the population, providing a nutritious and sustainable source of protein. Wahaca sees no reason the final fifth of us shouldn't get munching, and the restaurant has invited diners to tuck in to a grasshopper dish, then vote #ChapulinYES or #chapuliNO on Twitter.
The 'hoppers are currently sourced from the Oaxaca region via an accredited farmers' co-op, says Wahaca founder Thomasina Miers, who believes that encouraging Brits to accept and enjoy insects could "change our food map forever". She adds that, if popular, setting up a UK supplier would up the sustainability, allowing foodies to enjoy 'Chapulines Fundido', essentially a smoky chipotle salsa, smothered in melted mozzarella and cheddar.
The critters are snuck into the salsa base, along with garlic, shallots and chillies, only to reappear as a grotesque garnish but, on arrival, the dish appeared rather conventional and I feared that Wahaca had taken the 'fun' out of Fundido.
Without expecting much, I bit down on a tiny chapuline.  It delivered an astonishing burst of highly-concentrated, umami flavour – smoky, nutty, with a pleasant bitterness. Still, no amount of bugging would convince my timid companion they too might be fond of the fundido.
Chapulines Fundido is currently on the menu at Wahaca Southbank Experiment, Queen Elizabeth Hall, Southbank Centre, Belvedere Road, SE1 8XX, www.wahaca.co.uk
Contact: Insects for supper?