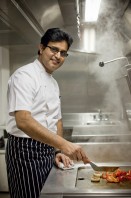 It may not be a surprise to learn that celebrated Indian chef, Atul Kochhar has neglected to  put Chicken Tikka Masala on the menu of his two Michelin-starred  Mayfair restaurant, Benares. Instead he has an alternative British classic in the form of a Chicken Tikka Pie – and it is wonderful.
 As we stepped into the kitchen at Benares for the start of our masterclass, the man himself wasted no time in outlining his highly successful approach to Indian cuisine which, he explained, has no simple definition. Regional approaches vary significantly and the food is determined by factors such as seasonality, livestock, cultural influences and, in particular, religious aspects.
In broad strokes,  Hindus have the strongest vegetarian influence while Muslims are responsible for the heady spices and aromas we know, love and possibly fear.
Christians, perhaps unsurprisingly, introduced a lot of alcohol and spiced tea as well as many of the contemporary elements of Indian food familiar to the West such as soups and marinated meats.
Of course, chillies are from the Americas and the Tandoor oven is a Persian creation. Atul humbly pointed out that Indians used primarily black pepper prior to these imports.
Getting back to the here and now, Atul's take on this melange of influences is to harness various types of Indian cuisine using typical British ingredients. Hence the dishes demonstrated used Scottish hand-dived scallops and soft-shell crab, both sourced from Brixham, in Devon, 220 miles away.
Atul swiftly and expertly set about mixing spices to marinade the seafood, pointing out that marination lasting hours on end simply isn't necessary; good news for those seeking instant gratification, as we had been from the moment the amazing aromas beckoned us into the kitchen.
Far be it from me to contradict a two-Michelin starred chef, particularly when all I'm likely to end up with is a Michelin-sized spare tyre, but I did question whether Atul's marination time would be long enough for the flavours to infuse. Thankfully, I saved myself the shame of airing this question, as the resulting dishes can only be described as multi-layered flavour-bombs.
The sweetness of the scallops tempered the spice, while the accompanying lentil salad was far more spectacular than it had any right to be. A few subtle nuances and handy tips, shared by Atul, may well explain how what appeared to be so simple tasted anything but.
He insists, for instance, on salting lentils at the beginning as they absorb flavours more readily this way. Apparently no amount of frantic seasoning at the last minute will salvage a lacklustre legume.
Salt is, of course, the perfect stage on which spices sing so was included in Atul's typical Tandoori mix for the scallops, which he reassured us should not be that familiar lurid red colour. This traditionally came from an abundance of Kashmiri chillies and these are not widely available here  so if your Tandoori is pillar box red, it contains food dye.
Atul just uses regular red chilli powder, garam masala, cinnammon, salt, pepper, mustard oil, lemon, lime and natural yoghurt in his Tandoori paste. The dish was finally served with the scallop rehoused in it's shell, but didn't remain there long as we uprooted and devoured it like hungry bailiffs.
Next up was soft shelled crab: dainty, crispy Spider Crab (which Atul insists should cost no more than £1 each!) served with a saffron mayonnaise, salad and adorable, 'Liliputian' crab apples.
It struck me that with the exception of the mustard oil, which Atul explained is largely inaccessible due to EU regulations prohibiting it's use as a food ingredient, there were no remarkably unusual ingredients used.  The key to flavour, apparently, is in balancing the spices and using them to enhance the dishes' intrinsic elements rather than overwhelm.
There is also none of that bang in a load of chilli and see how much heat you can handle bravado here. Chilli is generally used sparingly, particularly in Northern Indian dishes, and the emphasis returns to the spices that weave a tapestry of flavour sensations.
Atul is keen to emphasise the simplicity of the spicing process, explaining that different flavours can be extracted from a single spice depending on whether it is roasted, ground or fried. But there is an element of 'what you know' here, as Indians are generally exposed to complex flavour combinations from a very young age. Spicing would come naturally to many an Indian cook, whereas, in the West, we all too readily reach for the jarred sauces.
Despite this, we are a curry-loving nation and Atul is keen to make us fall head-over-heels with the real deal. He succeeds in doing this and in a pleasant, easygoing manner.
Atul's ethos is beautifully illustrated and taught in his cookbook, Indian Essence, which is yours to take home at the end of this hands-on class, but not before you've had a chance to find out what all the fuss is about with a lunch in the restaurant itself.
The next Indian cookery class at Benares is on September 15th at 9.30am and costs £350.
Contact: Indian cookery masterclass with Atul Kochhar