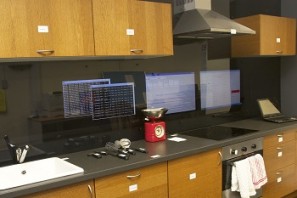 We already have cars that tell us which way to go so why not a talking kitchen that not only tells us what to cook but how to cook it – in French, or whatever the language of the cuisine that you're cooking.
Such a digital experience has been developed by computer scientists and language experts  at Newcastle University's electrical, electronics and computer department.
The home cook chooses a recipe – pear tatin, for example – on a tablet screen built in to the kitchen (would steam, heat and general fat-spit be a problem here I wonder?). But here's the clever bit – digital sensors attached to the utensils, ingredient containers and other equipment then relay the correct instructions at the right time, or to give feedback to the cook if he or she messes up. For example, if you are not chopping the onions using the right technique then you will be reprimanded – in French!
Watch the video below:
At any time, the user can ask for an instruction or a piece of information to be repeated — or translated into English — by pressing the touch screen.
All grammar and vocabulary has been selected to ensure that using the kitchen adds to basic proficiency in understanding French. After a session, the user can test what they have learnt by carrying out a short test on the computer.
The tasked-based learning kitchen could be available for schools and universities to use, and for the UK market, by the end of next year.
A portable version of the kitchen, comprising the computer and a set of sensor-enabled kitchen equipment, is to be installed at the Institut Français, in South Kensington, London.
Talk about killing two birds with one stone – hmm, now how do I say that in French?
Click here for the best French cookery courses in the UK
Contact: French digital cookery school