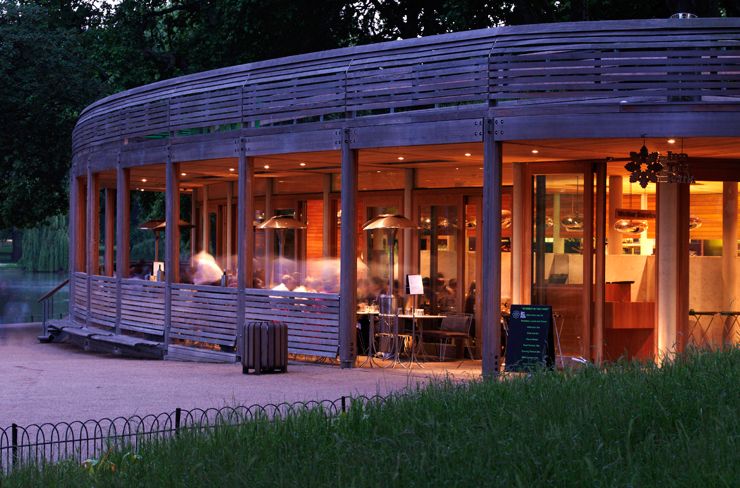 Set among the summer foliage and swans of the St James's Park, Oliver Peyton's Inn the Park emits an inviting glow in the evening.
I was here for an exclusive dinner for members of the Peyton & Byrne Food Club hosted by Oliver himself, who has the smart knack of staying in touch directly with his customers.
Sure enough, on arrival, once I'd negotiated my canape of wafer thin lamb ("ham from lamb") and glass of Kent bubbly into one hand, Oliver bounded over to vigorously shake the other. He chatted tirelessly with guests all evening, brimming with knowledge and enthusiasm for British food and raving about Devonshire beef.
After all, the point of the evening was to showcase the small-scale producers who supply the restaurant, some exclusively, as in the case of John Lean from Bickleigh Farm in Devon. Lean and his business partner Brian Boylan began selectively breeding ancient British White Park cattle on their farm some years ago. The cows are reared for longer than the average 24 months and hung for around four weeks which enhances the flavour of the meat and, on this night, made the best steak tartar I've ever tasted.
This was one of a trio of raw food pucks, alongside mackerel and Secretts' vegetables, served as a starter on a thick wooden board separated by flames of a dark crisp-bread to preserve their flavours. Also preserved was a playful secrecy around the precise nature of the Secretts' vegetables, so all I can say is that they were utterly delicious and no doubt seasonal.
Indeed, while the mains enticed on the page, it was the accompanying vegetables that sang on the palate. A choice of wild sea bass baked in a salt crust or whole guinea fowl wrapped in maple-cure bacon came with deep-green asparagus spears and snugly sharing another bowl were quarters of golden beetroot, mini white turnips and waxy new potatoes, plucked early from Cornish soil. It was exemplary cooking using seasonal British produce, providing a delightful reminder to anyone who'd forgotten how simple, yet delicious this can be.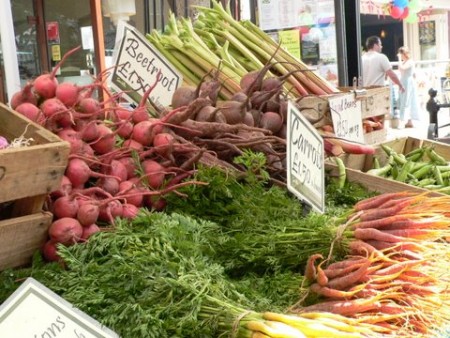 Secretts, a family company that began growing specialty vegetables and salads in 1937 from their farm in Surrey, got another look in towards the end with their strawberries, which were so intensely red, sweet and juicy, you could almost forget they were shrouded in rich clouds of cream and shards of meringue that was the Eton Mess. The cream was provided by Helsett Farm in Cornwall and also from Cornwall came the accompanying cheeses, Blue Horizon and Helford White, both from Treveador Farm. And just when you started to think that Peyton & Byrne only ventured South in sourcing their ingredients, we were treated to a sticky surprise from just 2 miles up north: Regent's Park honey scraped straight from the jar and slavered onto more crisp-bread.
Peyton's mantra has always been that "restaurants should be about having fun". We had a big helping of fun. Bizarrely, a trio of the Queen's finest foot guards in bearskin headgear marched into the restaurant (it wasn't just the starter that came in threes) and back out again. This was followed later by rounds of gunfire, presumably in preparation for the Queen's official birthday parade, at which point, with our ears ringing and tastebuds singing, it was hard not to imagine that it was our bearers of fine British produce being celebrated by the thunderous rifle salutes.
Sign up here for the Peyton & Byrne Food Club.
By Tristan Plowman