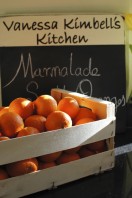 First food memory?
I somehow got hold of a large bag of self-raising flour and I tipped it all over myself in my playpen.  It was everywhere. I remember it being all in my hair, there was white over everything and then being startled by my mother's somewhat cross reaction.
First cookery skills?
Oh, I was baking rock buns with mixed spice from about the age of five or six.
Favourite ingredients?
Local, seasonal, British and fairtrade. Please don't yawn.  These are not buzzwords they are real.  Real people, real food and really delicious although I am not sure I could live without herbs… or spices or salt come to think of it.
Recipes or improvise?
Ah ha…  I read recipes all the time.  I hardly ever follow them. I'm an instinctive cook.
Most underrated dish?
Not so much a dish… but bread is really underrated. Once people realise just how delicious real bread it's a light bulb moment…  good cheese, good wine and good company follow.
Indispensable kitchen gadget or utensil?
I love my Kenwood.  There is nothing better than having the right equipment in the kitchen to do the job, and it's British designed.
Tell us a top cookery tip?
Don't throw the whey from your mozzarella away.  Use it instead of water to make your bread with.  It softens the crumb and tastes delicious.
Eat at home or eat out?
I'd love to say eat out but I rarely eat food that blows me away outside of London.  It's very sad because I think many chefs seem to mess about with their food too much. Let the ingredients speak for themselves.
What's Britain's best kept food secret?
Actually I think the best kept secret is English wine.  My parents own one of the best vineyards in the country and their bubbly beat Dom Perignon in a blind taste test recently.  We are producing some superb wines now and some amazing gins too.
What are the key ingredients for a successful cookery class?
Oh, I could fill a page on this, but in essence I love cookery classes where I really learn things and that make me want to dash back to my kitchen as fast as I can to make some more.  In short, I want to be inspired.
View the Sourdough Bread Making school profile
Contact: Cookery school Q&A: Vanessa Kimbell, Sourdough Bread making